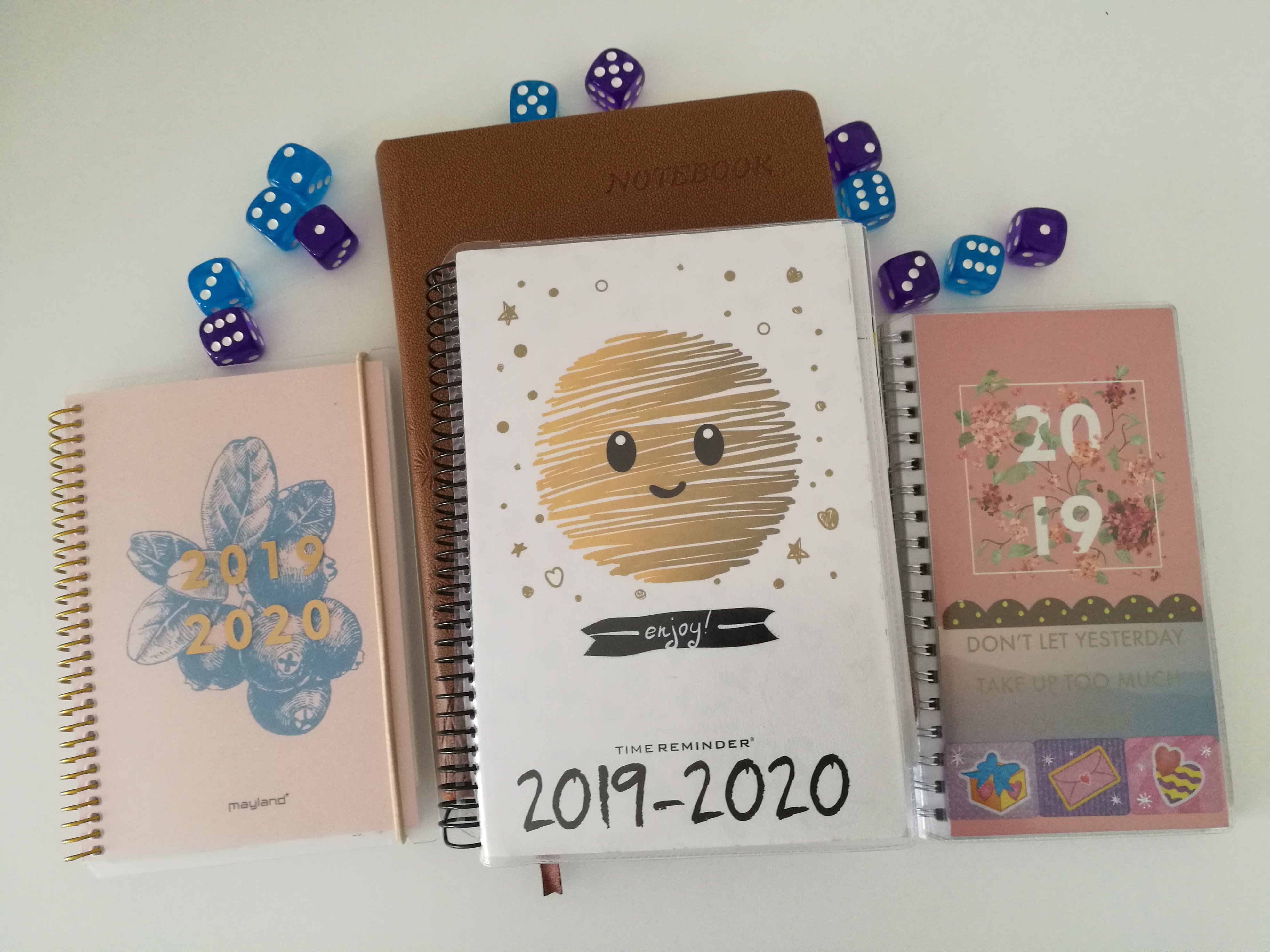 Reading time: 7.5 minutes
As we've seen in "Every Game is a Project; Every Project is a Game," all the reports we have to prepare are feedback systems* in our project games.
In traditional games, there might be one feedback system, especially in board-games. In real-life projects, there are usually many.
I found there are at least four main types for each of us and in relation to each project we want or have to address.
I started calling each of them a "gamebook." Calling them that way helped to change my attitude toward them. I began to enjoy maintaining them, which wasn't the case before that.
Let's take a look at these four types of gamebooks.
First of all, there is an "Appointments Gamebook." That is usually a calendar, on paper, or digital, where we record our appointments with other people. How can you consider this type of recording being a gamebook? In other words, what's the goal of this "Appointments Game"? The goal is to manage all or as many recorded appointments as possible. When you consider it that way, some of the appointments you might resent could become less daunting and appear like steps or levels in your "Keeping the Appointments Game," and you might even observe yourself wishing to take part in those events.
The second feedback system is the "To-Do List Gamebook" or simply "To-Do Gamebook." I also call it sometimes "Appointments with Myself Book." You could name the game having such a feedback system, a "Strike-Through Game." The goal in it is to strike-through or cross out all of the items on the list until the end of the game round. This game round could be a day, a week, a month, a year, or another entity, like a project or a work package. Other versions of such feedback systems are checklists, bucket lists, and similar.
As for the calendar with your appointments, you might have difficulties to see your to-do lists as a game token at first. But if you think of some of the board or card games, where each move consists of many steps, you might recognize that the sequences of these steps are like entries on a to-do list. That means that you can — if you set your mind to it — see your to-do lists as game-plans too. And bring fun into them. You just need to figure out how. It is always worth approaching it in a non-judgmental, one-little-step-at-a-time, and gameful way.
I recently realized that you could compare a to-do list at the beginning of a day as a hand of cards you've been dealt at the beginning of a card game where you need to get rid of all the cards in order to win. Whereas for the next type of the feedback system, you win if you collect as many (or a limited number) points as you can.
I use a daily calendar for my "To-Do List Gamebook" to share my to-do tasks among various days of the week and even different months. Inspired by an agile project management approach SCRUM, I move the tasks from one day to another if I see that it is not doable on any particular day.
In the course of designing my to-do lists, I tried many approaches: writing on scraps of paper, sticky notes, or in a notebook; several online and standalone tools; and even an electronic pocket organizer. I discovered that each time I found a method, and it seemed to work, I hoped that it would work forever. I became aware that I was putting too much pressure on sticking with the same method forever. But this is like trying to play just one game over and over and nothing else.
In Self-Gamification Happiness Formula, I call the third type of feedback system in a project game a "game-only" feedback system. I referred to it that way because I record points, badges, and stars there as I make progress in what I set out to do during the day. I call a weekly calendar I use for it my "Points Gamebook" (other versions of that title are: "Points and Stars Gamebook" or "Points, Stars, and Badges Gamebook").
From the first sight, you might think that it is something unnecessary, added "only" inspired by games. And the points, badges, or stars would take too much time to record. But that is not the case.
First of all, you might be using such Point Gamebooks already and playing, thus a collector's game. You either need to collect the maximum number of points set or more than your competitors, or not to step over the set limit or the time set. Habit trackers, which can be found now in many commercial diaries, are nothing else but a commercial counterpart of my "Points Gamebook." Or the steps on your step counter, giving you a point for each step. Or calories you count; they are points too. Another example of this type is a gratitude journal, where you list all things you are grateful for that day.
And here are more examples. If you chose a writing project, then you will have word counts as your feedback system, if your activity is to learn to play a musical instrument, it would be the number of songs or pieces of music you have come to perform. And so on.
And another great feature of recording points for each done task, especially the small ones, or ticking off each day you exercise or maintain another healthy habit is that with each point and checkmark, you take a little moment to appreciate your effort. We often rely on the appreciation from the others, but we won't be genuinely able to accept the praise if we don't appreciate what we do ourselves.
The fourth gamebook is the "Project Gamebook." That is just a notebook where I record all my thoughts for that project or write excerpts for my new books. Later I put those handwritten notes into digital format, which in itself could also be considered as a digital "Project Gamebook."
Why do I bring up such a detailed, and maybe a little strange classification of various ways we record what and when we want or have to do? I do that to draw your attention to how multi-faceted these project games are. Seeing your to-do lists, reports, Microsoft Excel sheets, road maps, your notes for the project, and the additional feedback system you might develop for yourself and your team members, like a multi-dimensional game (or even several games played at once), is a great key. This multi-dimensionality can add to the fun factor of each of your project games.
My recommendation is that you test various approaches and observe what is right for you at any given time in your life. And continue practicing to see your projects like games, and yourself as their designer and player.
You can add game elements, like color codes, stars, and so on, to various types of entries in your Microsoft Excel sheets, or even sound effects to your PowerPoint presentation that contains the road map. You can even lay a flow chart in a project out like a board game and make progress visible through moving figurines along the board.
Of course, you would also need to record progress in another type of feedback system (one you have agreed with your customer or boss), but if these additional playful feedback plans will benefit you, your colleagues, and the project, then, by all means, create them and use them for your project games.
An important note: Don't worry too much about recording your points precisely. Remember that although points, badges, and leaderboards provide a fun and effective reporting system, their primary role is to increase the fun you experience (such as, for example, the warm fuzziness you feel), not to keep an exact account. Keeping a precise account and fretting about the score will tear you out of the game and the fun experience.
References and Glossary:
* "The feedback system tells players how close they are to achieving the goal. It can take the forms of points, levels, a score, or a progress bar." — Jane McGonigal, Reality Is Broken: Why Games Make Us Better and How They Can Change the World
If you want to learn more:
Sign up to Optimist Writer's Blog to follow the Gameful Project Management series.
Check out my coaching and consulting services to work directly with me.
Take a look into my book Self-Gamification Happiness Formula.
Go to this link for the list of all the resources I offer on Self-Gamification.