This project of cheerleading for writers is a gift I am giving further. A gift of cheerleading, which was given to me by Marcy, Marcella Belson, who lives an ocean and a continent away from me, and whom I haven't met in person yet (as I write this).
Marcy found me through my blog. She commented on my very first short story (which I referred to as "a short novel"), published as a blog post.
I answered her comment. And she replied.
Here is our first exchange, which I am glad I saved as a separate file. After migrating the blog from one host to another, many of the comments were lost. But these survived (not on the blog, but in a file together with the story). I was so thrilled then that someone, whom I didn't know yet, found my blog and commented, that I decided to save them separately. Somehow I felt them that this exchange was something special. How right I was!
Marcy, April 23, 2013 at 2:37 am: Nice going, you have the touch! I enjoyed the story and also, your comments about your own life and child.
I'm envious of your ability to write fiction. Looking forward to the next story!
Where are you? I'm on the West coast, and it appears you are posting in the middle of the night. Maybe you are!
I was so excited to read this. Someone thought my fiction was great and was even envious of my ability to write it! Here is what I answered mere ten minutes after Marcy posted her comment.
April 23, 2013 at 2:47 am: Wow, thank you, Marcy for the great feedback! I was a bit nervous about this one. Its first version definitely needed thorough editing, but I didn't want to change the story by doing it. So, it was a very interesting challenge.
I live in Denmark and I write after my day work (working mostly from home) and after spending time with my family. So, I write mostly in the evenings and nights. It is just so much fun to write and share! And read of course! I am crazy about reading!
Thank you very much again for reading and for your feedback!
Less than two hours later Marcy replied to my comment.
April 23, 2013 at 4:19 am: Oh, Vichizli, thank you for replying to my comment! I'm so happy to have a writer in Denmark that I can follow your work! I have had several Danish friends over the years, but have never visited Denmark, unfortunately. I write little things for The Elder Storytelling Place, about my life, and I belong to a writers' group. I'll be waiting for your next work!
I couldn't wait until the evening to answer to Marcy. So, with a cup of espresso next to my computer I answered to her during a short break.
April 23, 2013 at 9.27 am: Dear Marcy, I am really glad to interact with you. I'm a freshman in writing and glad to exchange with people who are as passionate about writing as I am. I just read your story "Bicycles and Glass Bottles" in the Elder Storytelling Place, which surprised me pleasantly with the richness of details. On the first sight, you could say it contains just facts, but hidden emotions were coming through. I won't be able to post there ;), being 10 years younger than the admittance age, but I would like to read the stories shared there. I enjoyed yours very much. …
My comment went further, where I told a little about Denmark, how I like living here. I was so eager to share with her more. So I told her that I was originally from Moldova, and told her what connected me with Germany. And I recommended all three countries for visiting.
Marcy commented most of the following posts.
At some point I realized that our conversations were becoming more personal and more private.
Marcy didn't have my e-mail address then, but I had hers through her subscription to my blog. So I decided to reach out and sent her an e-mail.
And from there our wonderful friendship began and becomes stronger every day.
We haven't met her in person yet, but it is as if we have known each other for years.
We sent each other pictures of ourselves and our loved ones. Then little gifts followed. Marcy made pictures with those I sent her (including a shawl my mother knitted for her) and sent them to me. I reported her how my son wouldn't want to wear other socks than those Marcy sent for him.
We wrote to each about writing, about books we read, about life, about memories. A generation, an ocean and continent away, different cultures and upbringing didn't separate us. They actually brought us closer together because we were so curious about each other and also because the stories we told each other generated something treasured from the experience and live of the other.
Marcy has witnessed my writing when I thought that I would never want to write a book. When I thought that I'd stay with sharing short pieces on my blog.
At some point I told her about reading somewhere an advice: "If there is something you are really afraid of or worry about, then write about it." I told her there was a story I couldn't stop thinking about. My father's story. How he lost his family during the World War II and about his attempt to find it.
I told Marcy that I've been reading a lot about the craft of writing and how most of the experienced writers advised not to give the first draft to anyone else to read until it's finished and revised into a second draft.
Marcy's answer was that she hoped to be able to read it, when it's ready. Doctors suspected cancer and she was awaiting results, when I told her that I started writing a book.
After having received such a gift of support of a dedicated reader, I wanted to give back. So I took all I wrote so far for my first book, self-edited it and sent it to her with a warning that all is still very raw material.
Fortunately, the cancer was not confirmed. But the awareness about fragility of life made me want to tell her the whole story as soon as I could.
The answer to the first sent chapters was prompt. Marcy said that she loved what I sent her and that she couldn't wait for more. She asked me about Soviet Union and my father's story. She seemed to be as engaged in the story as I was.
So I sent her each chapter as soon as it was written and self-edited. I tried to answer each of Marcy's mails fast and to send a new chapter with each new e-mail. This got the book going.
Marcy didn't set any deadlines and didn't say "you have to write". When it took me time to answer, she always shown compassion to my full schedule with full time job, family responsibilities and voluntary work I was doing.  What motivated me most was her unique feedback to each chapter. She told me what moved her and what memories of her youth and childhood various scenes in the story reminded her of. From her I learned the word "cliffhangers" and was delighted when Marcy accused me of mastering them.
This exchange through comments to my blog and through e-mails continues to this day. Since recently we also started monthly phone calls. It is so wonderful to hear each other's voices. I wish (naively, I know, but still) that this exchange will never end, and I hope to meet this sweet cheerleader of my writing some day in person. She cannot travel long distances anymore, so I am determined to earn as much as possible with my writing to afford to travel half the globe to meet her. And to hug her.
I would like to finish this post with one of many encouraging comments I received from Marcy, which shows the power of her cheerleading and I hope reveals, why I treasure it so much:
I'll be waiting, Vica! Can't imagine how this will evolve…
but I have faith in your abilities.
Picture: first glimpses of snow in our garden.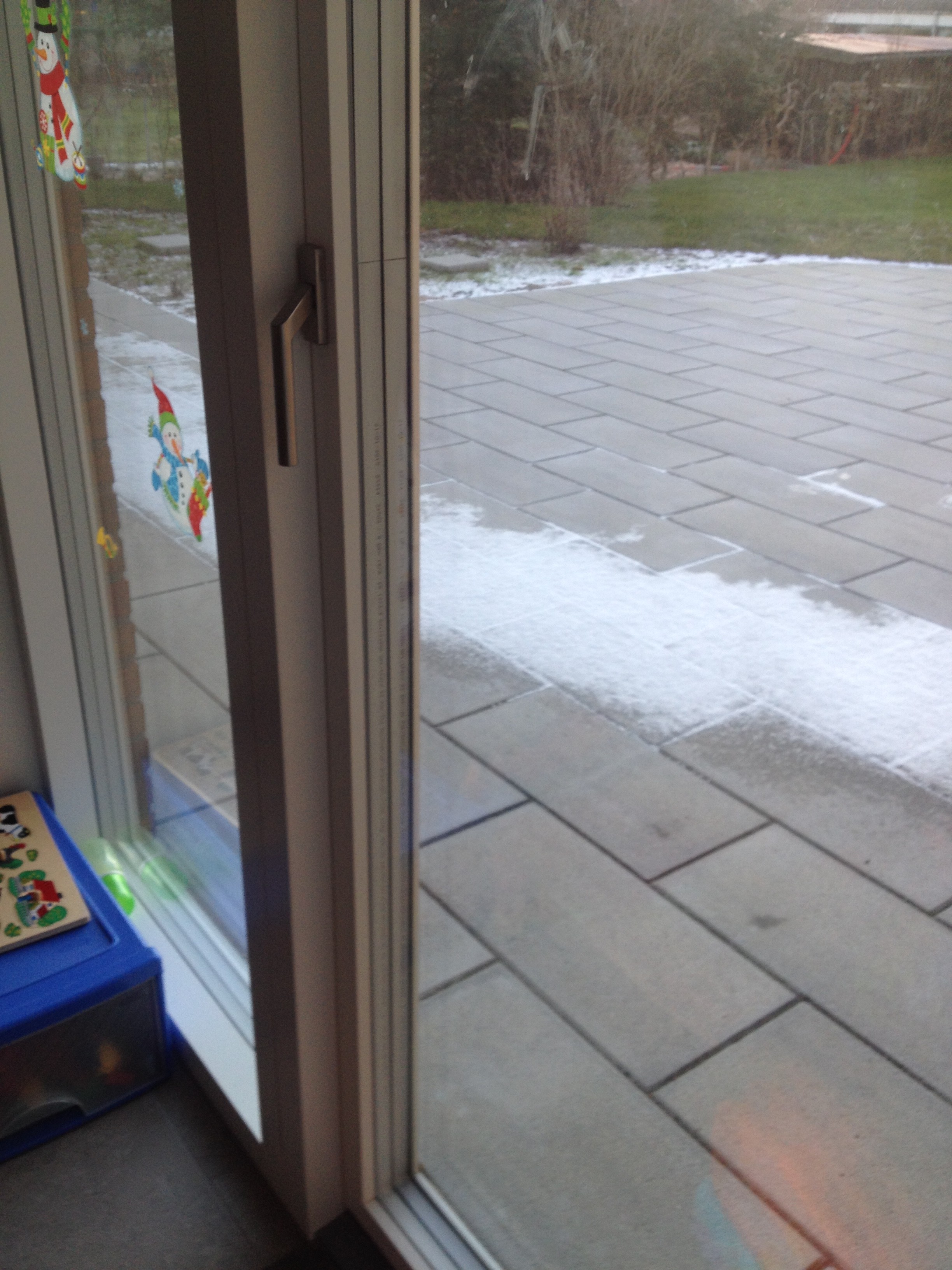 "Cheerleading For Writers", copyright © 2016 by Victoria Ichizli-Bartels