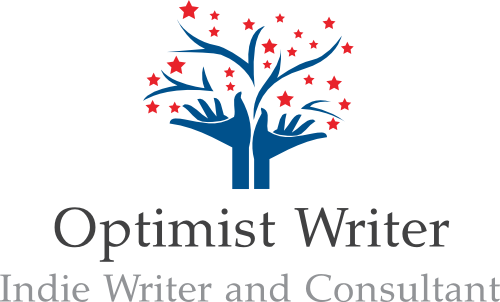 Dear Readers,
welcome to my latest adventure! I am starting my own business. It is based on one of my biggest passions – after my family and friends, ahead of coffee and chocolate, and on a par with reading…
I am talking about writing, in all its facets. Novels, non-fiction, articles, blog posts, freelance writing, technical writing, conversion, translation, posing questions, answering questions, starting discussions, giving advice.. all of it!
I had always expected I would take the leap into full-time author entrepreneurship much later, once I had a solid financial basis and I could be confident that my books would do well in the self-publishing market. Note: I had only a fuzzy notion about what "well" meant here.
But life is always full of surprises, and it turns out that self-employment is the most appropriate course of action for me right now.
I am reminded of the hiking tour of the Alps that my husband, Michael, and I took with my parents-in-law in 2007. I bore a pair of Nordic walking poles that I had bought for the occasion, and enjoyed how springy and light they made each step.
The track we followed was even and smooth, as if to underline the challenging emotions I would be facing just minutes later, when I experienced one of the most revealing and inspirational events of my life. My mother-in-law, Gundel, and I walked quietly side by side, exchanging the occasional smile and agreement about the wonderful weather. Then we saw a sign: "Climbing route to the Chamois (Gemse in German) of Sattelberg". The sign indicated that this was a climbing rock on a special hiking tour for children.
By this time I had been afraid of heights for several years, having previously attempted a short climbing tour of approx. 2700 to 3000 m in the Alps without properly acclimatising to the altitude. This was in summer 2001, and six years later I still felt the dizziness in my veins after anything above a few meters. But I began to become curious about climbing again.
So I took a step closer to my mother-in-law as we walked past the sign to the chamois and said, "Someday I want to try something like that again. I loved climbing as a child."
Suddenly, Gundel, who is a dear friend as well as the mother of my husband, stopped abruptly and grabbed my left arm. "No, there is no 'someday'. There is only today. If you don't do it now, you probably never will."
"Oh," was all I could say. And then after a pause filled with looking at Gundel's hand on my arm then at her face, and then back at her hand, I said, "I don't know. I'm not prepared for this."
"There is nothing to prepare. You either do it or you don't. Do you want to do it?"
"Yes … in principle … But …"
"No, no. Not in principle and not someday. I think Roland (A note to the reader: Roland is my father-in-law) has a set of safety ropes with him. He can guide you."
Before I could say anything else she had called to Roland and Michael, who were walking about ten meters in front of us, to stop and come back to join us. At this point Gundel had already led me by the hand to the sign at the start of the climb.
Goosebumps ran over my arms in both directions. My breathing accelerated, and I couldn't speak. All I could do was nod in response to the amused questions posed by Michael and Roland, and allow Roland to secure me.
I also noticed that I was excited and really wanted to do it. The thought "I should be scared!" tried to pop up several times, but it was quieted by all the action around me.
Then we stood at the bottom of the rock. "This is for children?!" I exclaimed, as my eyebrows almost reached my hairline.
"Well, it is a bit steep," said Roland. "It is probably for older schoolchildren. Don't worry, they have secured the way. Look." He pointed at the steel anchors and a rope visible all the way up.
Actually the top wasn't visible. I had no idea how far we would have to climb. But somehow in that moment it didn't matter. I was simply excited.
Roland's calm guidance and reassurance helped as well. "Don't worry, you won't fall," he said as he secured my carabiner to one of the anchors. "If you feel unsafe at any time we can stop and go back down."
I nodded.
Roland showed me how to secure the carabiner and how to move it from one anchor to another.
"Ready?" Gundel asked.
"Uuuf," I let pressed air flow out of my mouth and a big grin spill over my face.
Gundel gestured in front of us. "Michael and I'll go on ahead. We don't have another pair of safety ropes with us, so we'll need to take an easier route, parallel to yours. But don't worry, we won't be far away."
Michael had put his arm around my shoulder. "Are you OK with this?"
I nodded feeling goosebumps making their dance on my shoulders under Michael's arm.
"I'll take some pictures of you as you climb. Is that OK?"
I nodded again. Whatever the outcome of this adventure, I felt its significance for me and I wanted it to be recorded. I was grateful to Michael for having the idea, even if I wasn't able to verbalise it at the time.
And so we climbed.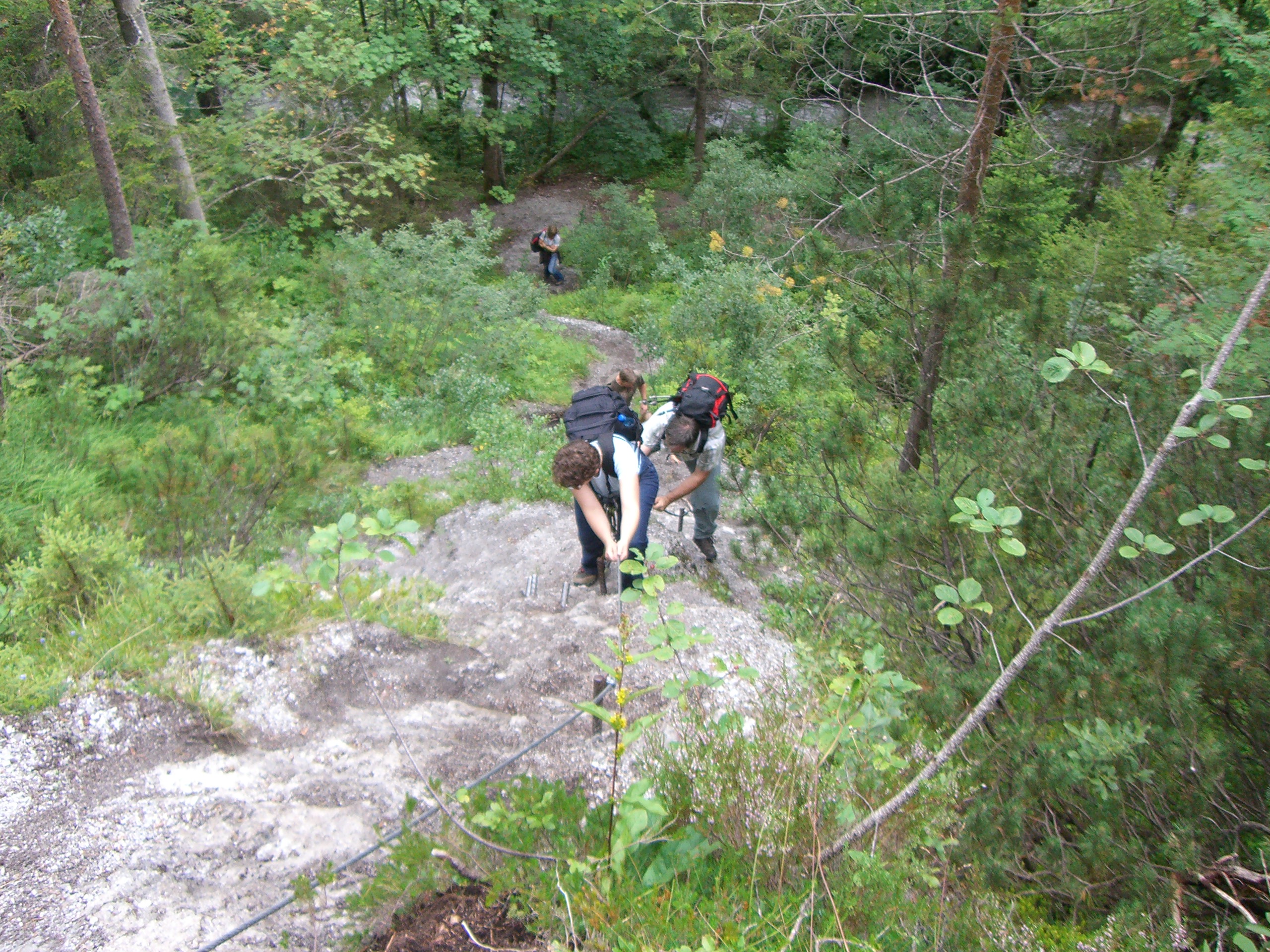 Goosebumps were my constant companion during the climb, and they have re-appeared even now as I'm recalling the experience.
I made it to the top. I also attempted the steepest of the two routes, before realising that it was too much and too soon, then changing to the lower one. I was immensely excited and felt incredibly in my own skin, looking out from that rock over the amazing nature that surrounded us.
Roland, an experienced climber and hiker, praised my climbing and my enthusiasm. He even christened me "Gemse von Sattelberg" ("Chamois of Sattelberg"), as we sat at the top, the metal chamois with white paint on it in front of us.
And now I find life has taken me by the hand to say, just as Gundel did on that day in July of 2007, "No, there is no 'someday'. If you want to climb, do it now."
And so I begin my climb. It is a huge rock, but one that has been scaled by many before me: authors entrepreneurs, freelancers and business owners.
Some of the paths I take might turn out to be too steep, and I may have to change tack as I progress on my way as a business owner. I can't see to the top of the rocks I need to climb. But all of this is okay. I am excited, and I have goosebumps – the true indication that I'm in the midst of something amazing.
Plus, I have many guides and supporters, among them those who write professionally, and those who give me hugs to cheer me on my way.
This path is daunting and I do have thoughts shouting in my head, "Are you sure about this? Is it not too soon? Shouldn't you be more scared and more cautious?" But thankfully my life, full of sweet people and events, allows me to silence these thoughts, and to enjoy the ride.
If you would like to follow my progress on one of the biggest adventures of my life, or indeed join me for some of it, then check out the pages on this site offering various ways in which I can help you or someone you know. This website will grow along with my business and my experience as a business owner.
More books will appear here, along with hundreds of blog posts giving insights into what I'm up to, as well as offering advice and support to help you on your own adventures.
So, let's climb!