Would you like to:
Write a book,
Learn a language,
Learn how to play a music instrument,
Succeed in a work project without a deadline or end (for example maintenance of a knowledge base, bringing order into documents, etc.),
Anything else you think you want, need or have to do but don't find time to?
Yes?
Then you probably also want to know how to:
Stop procrastinating,
Learn how to persevere,
Make progress in your stagnating project, and/or
Turn a daunting endeavour into a fun one.
If you really and seriously want to succeed in your project, then play a game. Not a serious game. But a fun 5 Minute Perseverance Game.
In order to learn how to play this game, you need to read its description. You can find this description in the Book "5 Minute Perseverance Game: Play Daily for a Month and Become the Ultimate Procrastination Breaker" available at many online stores for only $2.99 for the e-book and $8.99 for the paperback.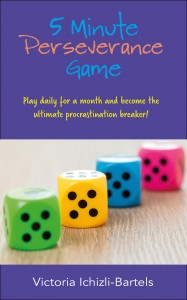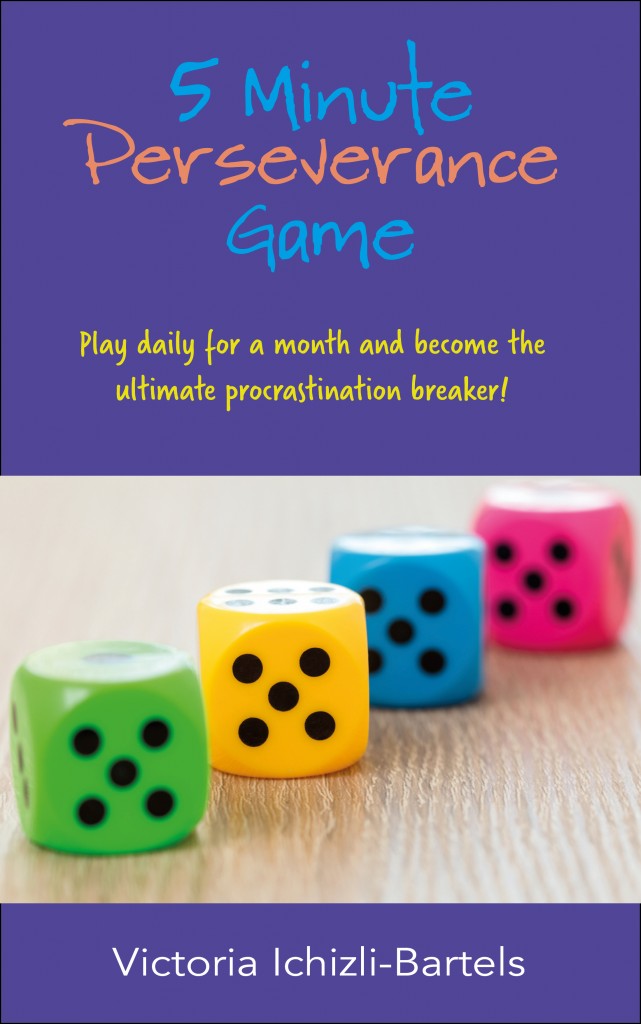 This short, personal and humorous game description will help you melt your procrastination and become an ultimate procrastination breaker.
So don't wait any longer, read this book and invite your procrastination to a round of the 5 Minute Perseverance Game.
With the purchase of this book you will also have access to two bonuses:
A PDF version of the book for eventual print out, and
A possibility to join Procrastination Breakers Club, a community where we support each other in melting our procrastination and succeeding with our projects and endeavours.
Please note: If you purchase the paperback first, then you can get the e-book for free.
Please Note (!!!): if you buy the paperback version of the book, then you get the e-book for FREE.
The e-book is available for $2.99 at:
The paperback is available for $8.99 at:
Genre: SELF-HELP > Motivational & Inspirational
Keywords: self-help, motivational, perseverance, game, transformation, melt, procrastination
Please Note (!!!): if you buy the paperback version of the book, then you get the e-book for FREE.
Reviews:
Great tool for overcoming procrastination! I've been using this game in writing a submission for a book. I combined the Game with the principles of Menna Van Praag's Sentence Game as the author suggested, which was a wonderful combination.I was amused to discover that even with these amazing tools, I am able to resist working on something that I actually wanted to do! But I have to say that the Game helped me to overcome my trouble getting started and also to not take myself so seriously in the process. It made writing feel manageable and FUN. I will be returning to this game in the future for big and small projects that I just can't seem to get started on.Thank you, Victoria Ichizli-Bartels: Your little book has changed my life. (5-star review by Michael Hanko at Amazon)
"5 MINUTE PERSEVERANCE GAME by Victoria Ichizli-Bartels is an inspiring book that, if followed, will help people with the tendency to put projects off to accomplish their goals in five-minute increments. The style of writing is friendly and non-judgmental and will uplift those who read it with its encouragement alone. I like how the author feels like a buddy as well as a teacher. This book is suitable for all ages, so whether you're an adult finally admitting you procrastinate, or if you are a parent with a child you need to encourage to get things done (such as cleaning their space!) then this book can be useful. The cover design is colorful and creative. The slimness of the volume will encourage people who need the book. After all, it takes more than reading to tackle a problem! The call to action on the back will get readers moving. I like the author bio and picture. Her background is intriguing and we feel we can trust her to help us! For some reason, this book seems to scream for illustrations. We read 18 pages before getting to the actual game, though I do appreciate the encouraging talk. The game itself isn't really a game, but simply the suggestion of working in five-minute increments to accomplish a task. But the buildup will help motivate readers, and that's a good thing!" (Judge, 25th Annual Writer's Digest Self-Published Book Awards, 2017)