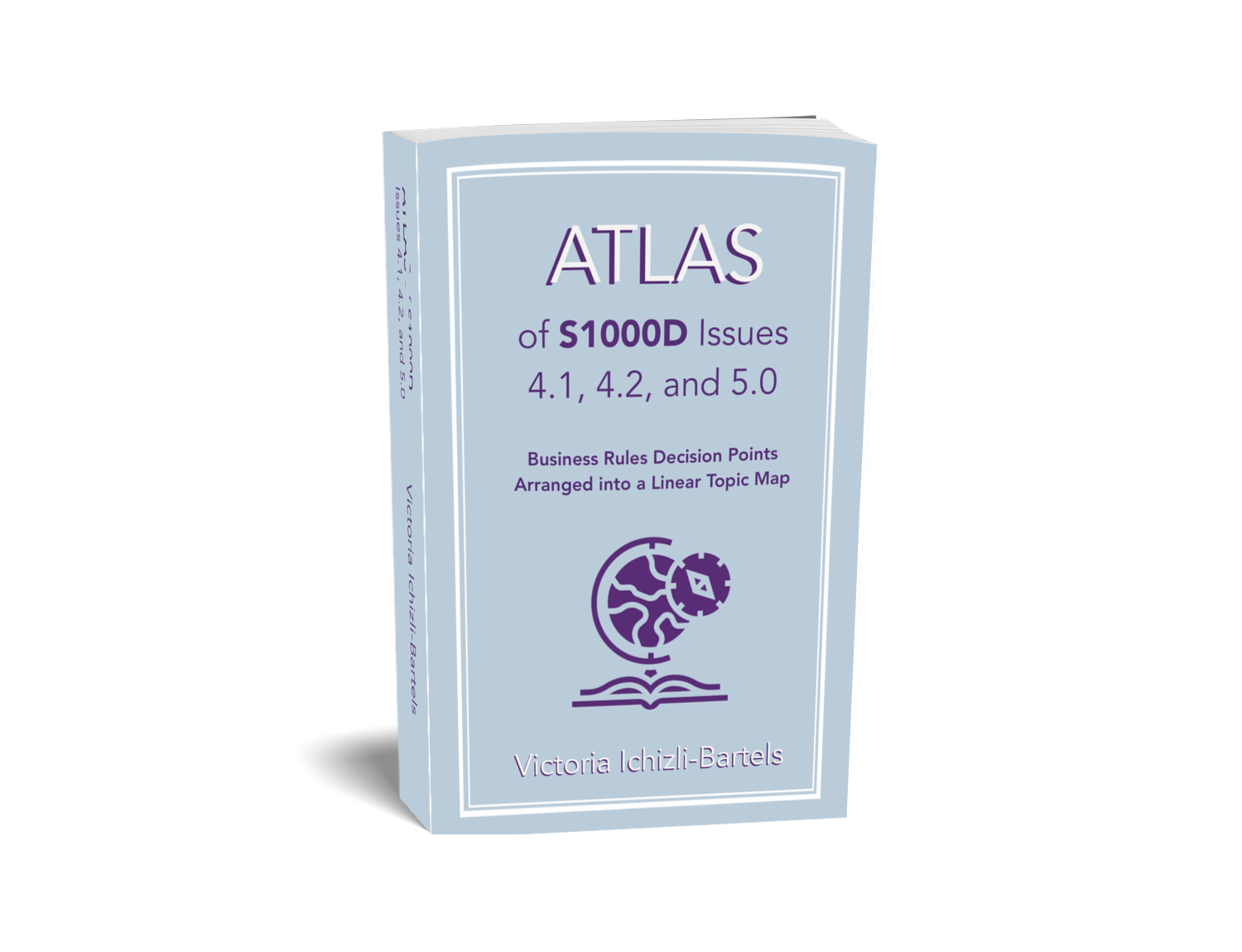 The book is available here:
Atlas of S1000D Issues 4.1, 4.2, and 5.0
Business Rules Decision Points Arranged into a Linear Topic Map
S1000D is an international specification for technical publications. It has become the preferred technology standard for complex technical publications because it offers comprehensive definitions for information captured in XML across the entire product life-cycle. It offers many options that satisfy the requirements of the defense and civil sectors, being implemented for products ranging from small hand-held devices to those that fly, float or move on land.
The availability of these multiple options results in the Specification being considerably large and complex. The frequency with which S1000D is updated, along with the requirement to lower the cost of products in general, and technical publications specifically, have resulted in pressure to accelerate S1000D implementation. To do so, users of S1000D, new and seasoned, must learn quickly and be given access to requisite information regarding its implementation.
As for any other technical standard, successful implementation requires understanding, solid orientation in its numerous dimensions, and conscious decision-making. This is what this book is about.
Like its predecessors, Atlas of S1000D Issues 4.1, 4.2, and 5.0 offers a unique approach to how information on the Specification is usually structured. It orders various Business Rules Decision Points (BRDP) defined in S1000D Issues 4.1, 4.2, and 5.0 into a linear BRDP chain to provide a linear topic map with clearly emerging associations and occurrences.
This resource can be used:
To navigate S1000D Issues 4.1, 4.2, or 5.0 while learning to work with them
To find references on your topic of interest
To navigate the Business Rules Decision Points Index in a logical order
To understand the evolution of each Business Rules Decision Point from S1000D Issue 4.1 to Issue 5.0, where the decision points got their unique numbers and system for the first time
As a first draft Table of Contents for an S1000D implementation map for your project or organization
As a checklist for your project or organization on what parts of S1000D to implement or not
To compile easily editable and sharable to-do lists to implement your project
As logic or algorithm to feed into a software tool and generate business rules documentation
And more