Published in March 2020
Gameful Healing:
Almost a Memoir; Not Quite a Parable
Book 2 in Series "Gameful Life"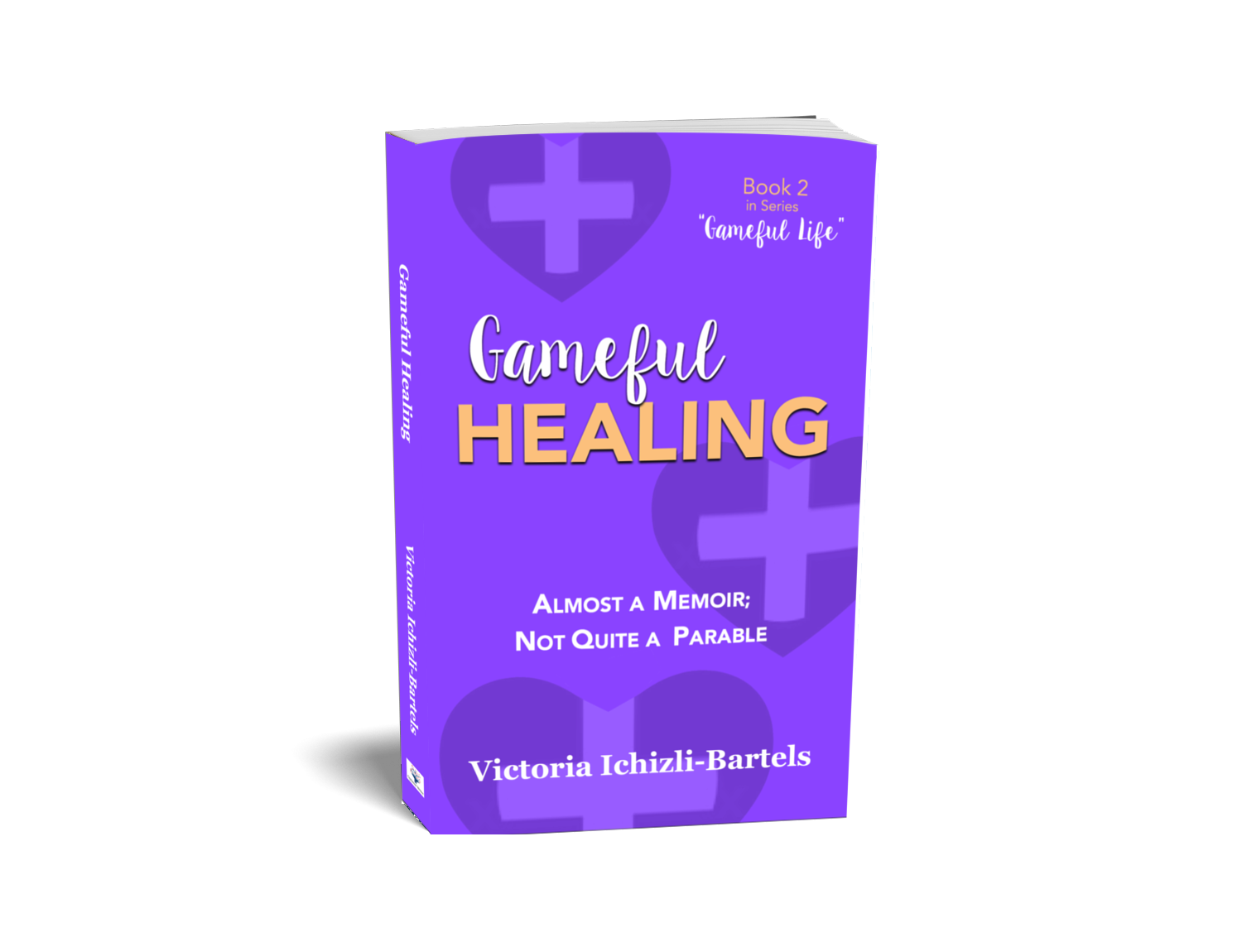 The book is also available at:
Baker & Taylor
Bibliotheca
BorrowBox
Overdrive
Weltbild.de (and other for Tolino)
Description:
This is a story about learning to navigate health conditions without judgment; making progress towards healing in small, incremental steps; and approaching those steps with a fun, gameful attitude.
What is one of life's biggest delusions?
The belief that you are invincible and will live without ever becoming ill. And that if you overcome one challenge, you will never be challenged again. And to believe those who say they are never sick, or never have any problems, and to compare yourself to them.
It is also a delusion to believe that your discomfort is something strange, that should be fought against.
Victoria could fill a whole book with her delusions. But they are not the main characters of this particular story, although they make an appearance.
Some time after learning that a person striving toward tolerance could be completely intolerant to many things (especially foods), Victoria embarked on an adventure to explore the world of challenging health conditions, and herself within it, gamefully.
She drew inspiration from games, play, and anything that resembles the two, as well as learning from those who live their lives in a fun and enlightened way. In the process she created games and fictitious characters to explore her present and her past, uncovering the amazing unity between herself, her mind, and her body.
Topics addressed in this memoir:
Food intolerances (sensitivities) and allergies toward gluten, lactose, milk protein, fruit sugar (fructose), other sugars and carbohydrates, sugar alcohols, nuts, seeds, and others,
Medical conditions such as alpha thalassemia minor, Bell's palsy, gluten ataxia, eye condition not corrected by glasses or contact lenses, perfume sensitivity, cramps, joint pain, and osteoarthritis,
Dealing with chronic pain and multiple health conditions,
Dealing with worries and anxiety for one's own health and life,
Dealing with fears and concern for one's children and how they might be affected by hereditary conditions,
How to study one's medical conditions, and the thought processes, feelings, and reactions you might have towards them, anthropologically, in other words, non-judgmentally and with interest,
How to apply kaizen in mastering health challenges one little step at a time,
How to use games as inspiration for bringing joy and fun into healing processes, both in how to approach them and how to appreciate each step of the way,
How the synergy of anthropology, kaizen, and gamification unfolds and empowers while navigating multiple medical conditions, especially those not visible to others,
How to trust and listen to one's body and to truly listen to and appreciate the well-meant advice of others, while remaining true to oneself, which can be discovered moment by moment,
How to turn healing and life into fun games, and how to be both the designer and the player of these games,
What Self-Gamification, Self-Motivational Games, and Fun Detecting Antenna are and their positive impact on continuous and progressive healing.