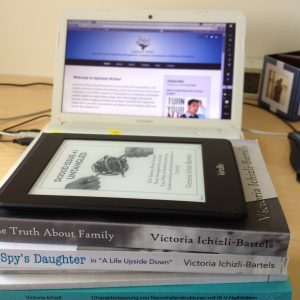 My love for the written word began early – initially sparked by my Father. As an infant, before I could actually read, I would lie on my tummy with an open book and trace the rows of words with both my finger and my mind, as I had seen him do. I would make muted noises as though I was mumbling the words aloud. Several years later, I was disappointed to discover that everyone my age was not only eager to read, but was actually doing it. I mean, really reading. So, I decided to rebel and be the only one who didn't read. But with time, the praise appeared to be more attractive than the lack of it. So I started reading what was required of us at school. And in addition to those prescribed books, there were others that I really liked.
Later, having first wanted to become a dentist, and then playing language teacher with my dolls, I went to study semiconductor physics. My father died when I was ten, so I never got to experience the typical teenaged conflicts that would prevent me from idolizing him. My father studied and worked in the field of semiconductor physics and semiconductor devices. Thus, my choice to study the same. It came naturally to me and I was resolved to follow his dream. But this was my dream, too. Nanophysics, as it is called today, is extremely romantic. There is either attraction or repulsion. Nothing in-between. And so many uncertainties that there is even a scientific principle, a postulate, dedicated to them: the uncertainty principle.
I discovered my love for writing almost twenty years later. I had tried my hand at poetry while at school, but had discouraged myself as much as my literature teacher did. In any case the attempt at poetry was mostly about being fashionable. Everyone at school wanted to be poetic.
An early hint of my eagerness as a writer came from my professor, or doctoral father, as they say in Germany, when he reviewed the first draft of my Ph.D. thesis. He said: "Frau Ichizli, you write very poetically." I did rewrite the entire thesis to make it more suited to a study of porous and nanostructured semiconductors. But his feedback remained one of my favourite anecdotes. And now that I'm addicted to writing, I realise why.
Like anyone in this world, I had and have many dreams. One of the biggest was to start a family. The person I loved, and still love, the most in my life had the same dream. So we dropped our initially careful family planning and just started trying. But things didn't go as expected. So, we tried and we waited. And we waited and we tried. And then we asked for external help. On a bus trip to one of the checks and treatments, I wrote my first short story about a woman who was on the way to get two embryos implanted. She took a taxi. But the taxi driver was a broken man after his mentally ill wife had killed herself and their son. The woman he was driving looked so much like his late wife that he almost punished her. But then the woman told him where she was going and his madness stopped. The woman's wish to have children was so opposite to what his wife had done. This woman wanted to give life instead of taking it. So, he took her where she'd asked him to and some time later he went to apologize. The woman named one of her babies after the taxi driver's son.
More stories found their way into my head and I was eager to keep writing. I started a blog, and then a novel. The fact that I do have a family now – two highly energetic, sweet and wonderfully cheeky monkeys, a son and a daughter – has generated even more inspiring stories, which are in the process of being recorded.
I'm thrilled to be on this journey of re-discovering moments in my life, capturing the people I shared them with, and conjuring new elements in my imagination. Realising that I could create rows of text that would hook a reader, made me want to write even more. And I never want to stop.