UNPUBLISHED on August 23, 2017
S1000D Issue 4.1 Untangled:
552+ Business Rules Decision Points Arranged into a Linear Topic Map to Facilitate Learning, Understanding, and Implementation of S1000D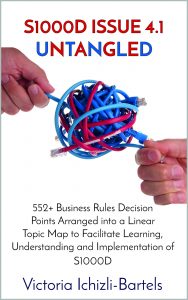 This book has been unpublished because the follow-up resource completely covers and also improves its content. In addition, the new book offers the same information for the new Issue of S1000D, Issue 4.2 and demonstrates what happened to each Business Rules Decision Point (BRDP) inside the Issue 4.2.
The new resource bears the title "S1000D® Issue 4.1 and Issue 4.2 Navigation Map" and subtitle "552+87 and 429*+90 Business Rules Decision Points Arranged into two Linear Topic Maps to Facilitate Learning, Understanding, and Implementation of S1000D®".
The price of this new resource was higher than for the first book. However, to compensate for the unpublishing of the "S1000D Issue 4.1 Untangled", I have reduced the price of the e-book by $30 (which made it as low as for the first book, that is $9.99) and of the paperback by $15 (bringing it down to $64.99).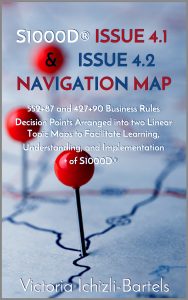 Here are the features of the new book "S1000D® Issue 4.1 and Issue 4.2 Navigation Map" in addition to those been available in "S1000D Issue 4.1 Untangled":
The new book gives information on two Issue of S1000D, Issue 4.1 and Issue 4.2.
It provides Chap and Para references for each BRDP, whereas the "S1000D Issue 4.1 Untangled" has sent you to Chap 2.5.3 of Issue 4.1 to find out this information.
The information for each BRDP in both topic maps (BRDP chains) has been extended to identify how the certain BRDP information has changed when moving from Issue 4.1 to Issue 4.2: Whether it remained the same, was deleted, edited, or whether it is entirely new.
Guidance information has been extended, in particular, various scenarios for its use.
The book provides a mapping of the BRDP numbers to the topics defined in the book.
The Issue 4.1 information was updated: two additional topics are identified, some of the BRDP changed places, OW's words updated in a few places.
Many retailers allow a free look into the book, and I invite you to do so. The free sample shows a considerable amount of the information:
All introductory chapters,
List of all topics for Issue 4.1 both in alphabetical and sequential order,
Detailed information on the first ten topics of the Issue 4.1 BRDP Chain. (at least for the free sample displayed on Amazon.com)
Thus this free sample will give you a good idea about the information provided by the book.
New price: $9.99 (!!!) e-book, $64.99 paperback (the price in other currencies depends on the current exchange rate).
Please Note (!!!): if you buy the paperback version of the book, then you get the e-book for FREE.
You can find more details, including the links where you can purchase the paperback and e-book, here: "S1000D® Issue 4.1 and Issue 4.2 Navigation Map."
Description of the "S1000D Issue 4.1 Untangled" (Unpublished on August 23, 2017):
S1000D has become the preferred technical standard for complex technical publications. It is utilized globally, both geographically and across the landscape of products and industries. Both the defense and civil sectors widely implement it for products ranging from small hand-held devices to those that fly, float or move on land. Among the currently available Issues of S1000D, Issue 4.1 is the most frequently recommended, having embraced and implemented requirements for all types of industries.
The frequency with which S1000D is updated, along with the requirement to lower the cost of products in general (and specifically technical publications), have resulted in a pressure to accelerate S1000D implementation. In order to do this S1000D users, new and seasoned, must learn quickly and be given access to requisite information regarding its implementation.
This resource offers a novel approach to how information on the Specification is usually structured. It orders various Business Rules Decision Points (BRDP) (both those defined by S1000D and new ones added in this book), into a linear BRDP chain, to provide a linear topic map with clearly emerging associations and occurrences.
This resource can be used:
To navigate the Specification while learning to work with it;
To find references on your topic of interest;
To navigate the Business Rules Decision Points Index in a common and logical order;
As a first draft Table of Contents for a S1000D implementation map for your project or organization;
As a checklist for your project or organization on what parts of S1000D to implement or not;
As an easily-editable and sharable to-do-list to implement your project;
As a logic or algorithm to feed into a software tool and generate business rules documentation;
And more.
Genre: BUSINESS & ECONOMICS > Decision-Making & Problem Solving
Keywords: business rules management system
Please Note (!!!): if you buy the paperback version of the book, then you get the e-book for FREE.
Reviews:
5 stars on Amazon: "This book is going to be a great resource! There are very few resources that deal with S1000D and this one looks to be the clear winner. The language is clear, easy to read, and very helpful. It is written in a way that is informative and easy to follow. The locations of the business rules to where they are found are helpful as well. I very much enjoy the OW's words of wisdom. These are insights that, for someone new to S1000D, might be invaluable tips. I have learned much from this book will most likely refer to it over and over."
* A small errata to the official title of the new resource  "S1000D® Issue 4.1 and Issue 4.2 Navigation Map". There are 427 BRDP defined in the S1000D Issue 4.2 and not 429.