Imagine the following scene, in which you play the main role.
Your management decided to introduce a new technical standard into your company's products. And you have been given the task to research on this standard, approach the community developing it, get involved and introduce this standard to your colleagues and management.
What is your first step? Yes, you research.
Today, most of us research on the Internet. You type in the keywords and get a selection of articles or even books ready for you to read.
You start to read one of them and find an article giving a detailed account of the standard you are interested in. You nod, Yes, I need to read this more thoroughly. You save the article for a later read and move to the next one.
This article talks about advantages and disadvantages of implementing the standard giving some examples of projects and companies, who did it successfully and also those who stepped into traps and lost large amounts of money by implementing it incorrectly. You save this article in the folder titled "Must-Read" and move to the next one.
At some point you rub your eyes from so much information and go to get yourself a cup coffee. Then you sit back at your desk and open the next link.
After a few seconds you laugh out loud at the mishaps and frustration the author of this article tells, how she was frustrated with this standard. How she cursed all those who made her learn it and those who created it, only to find out a few months later that she couldn't get rid of this thing. And not quite because she had to do it. But because she found herself in the middle of it. She couldn't stop thinking about the riddles it posed. She started liking it and the people developing it. She found like-minded professionals, who through all the frustration found the fun and multidimensionality of the standard and discovered its power and ability to improve the quality of their products. This standard even allowed to save money, when applied correctly.
After an hour you still read the long article, which hardly tells you the technical details of the standard but rather the human part of it. Then you find yourself researching about this person and the ones she refers to. You find some technical articles by her and start reading them, abandoning those you found in the first place and marked as Must-read.
Did something like this happened to you?
It did happen to me.
After my first maternity leave ended, I was very close to the status of a new employee in the company I worked at that time. Also because I had a new boss. And he had a new task for me in tow. "Learn how to work with XSLT," he said. "You have about one month to learn it and then you have to develop new stylesheets for our software."
I knew XML by that time, Extensible Markup Language, a language to capture information in a structured way, where the way can be flexibly defined for the specific context and purposes.
XSLT, Extensible Stylesheets Language: Transformations, is a specific subset of XML, or rather a language in itself, to transform the structure and content of a document from one format to another.
My task was to learn to transform an XML document into HTML format, which is most often used by various browsers to present content.
I love reading books. They are my preferred source of information. So I opened an Amazon window in my browser and search for XSLT books. XSLT 2.0 was latest and greatest at that time (about six years ago) and also applied at our company, so I looked for those. The book by Michael Kay "XSLT 2.0 and XPath 2.0" was highly praised. So I bought it and a couple of other, which were thinner and less intimidating than over one thousand pages long tome by Michael Kay.
When Michael Kay's book arrived I was both excited and scared. How am I going to learn all this in one month?
I opened the book, found that some of the examples made me smile ("A Hello World" stylesheet, example on music transformation, an example of displaying a poem") and I found a lot of valuable and well structured information, written without hurry and with the thought of the reader to understand the given topic.
But the most memorable part of this book was for me, where Michael Kay told the difference about how he felt, when he wrote his first book on XSLT (it was XSLT 1.0) and the one on XSLT 2.0. The difference was that he was an "outsider" when he wrote the first one. He was "just" a user, pointing out along with advantages also disadvantages of this specification as it was defined at that time. He said that with XSLT 2.0 it was much more difficult to be as critical as when he has written the first book. The reason was is that now, with the XSLT 2.0, he was inside the community and not only a part of it but also the responsible editor for the standard.
This resonated with me. I've been involved in development of a technical standard as well (S1000D®, International specification for technical publications using a common source data base) and I felt very protective of it when someone criticized it.
So this anecdote stayed with me and Michael Kay's book became one of the first ones I opened, when I searched for an answer about XSLT. I also followed the e-mail forums he participated in and learned from many examples shared and discussed by him and his colleagues there.
Another book on XSLT drew me to it due its creative title, "XSLT Cookbook" by Sal Mangano, and as creative and honest content of the book.
If I find dialogue in an business article or book, I immediately draw it closer to me and read.
In today's flooding with information world, we disregard, and also must disregard, a huge amount of the information pouring on us, and find something that captivates us and helps us experience epiphanies on the given topic. We can best memorize the information, which finds its way into our brains through "Aha" moments or those when we smile, when our eyes glitter with curiosity and eagerness to learn more.
But how do you captivate a reader in such a way?
Creative writers know the secret. That's why they are able to "steal" many free moments from readers' time, keeping them awake with a book in hand until dawn.
And the secret is not only in their creativity and imagination. The true secret is that they "split open".
Here is what Natalie Goldberg suggest to creative writers in her book titled "Writing Down the Bones: Freeing the Writer Within":
"Write what disturbs you, what you fear, what you have not been willing to speak about. Be willing to be split open."
This what happens when you start following a particular author on a given topic. It means that he or she "splits open" on the topic they are passionate about and they sweep you away with their honesty and generosity. They are so passionate about it that they become brilliant in what they do and write about, and because they truly and deeply enjoy what they do and talk about.
They put all their creative force into conveying their passion.
Yes, this is the secret and the reason, why you can't succeed in sharing information about your business without showing that you are passionate about it, without "splitting open" over it, without being creative when you write or talk about it.
What are your experiences in reading new information? Did you notice the creativity of the business articles in LinkedIn? Which was the one that grabbed your attention, captivated  and didn't let you give it up until you finished?
Picture: some of the textbooks that captivated me.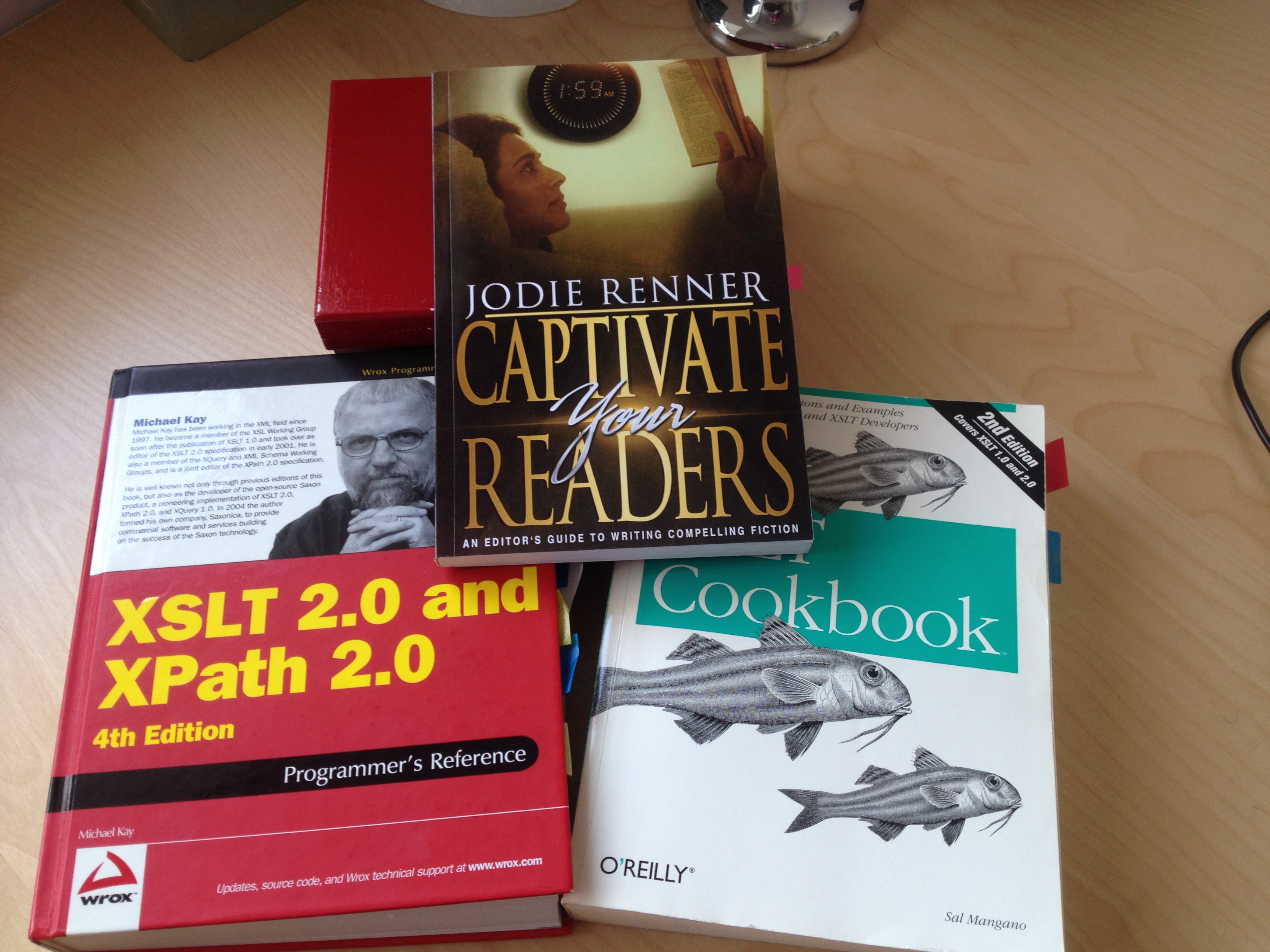 © 2016 by Victoria Ichizli-Bartels