Réal Laplaine, author of "The Buffalo Kid: Everyone Deserves a Second Chance", "Twilight Visitor", "Finding Agnetha: Despite the odds ~ dreams DO come true" — which I read and highly recommend —, and many other well received books has given the following 4-star review for "A Spy's Daughter":
"A Spy's Daughter, by Victoria Ichizli-Bartels, was a surprisingly thoughtful novel. At first I couldn't tell where this novel was heading – the story seemed so simple, but as it progressed, one starts to live the world of Hannah, the spy's daughter, and begins to feel her frustration living, if not even stranded, between two worlds, one of them largely hidden from her view. The twists come later in the story – when the ball of thread starts to unravel. The writing style is very nicely done – often touched with descriptive phraseology and metaphors. I enjoyed it and recommend the book."
I am thrilled to get such a review from an experienced author and I am very motivated to continue my writing adventure.
Here are the descriptions and links at Amazon and CreateSpace for "A Spy's Daughter" and "Seven Broken Pieces", where the latter is the prequel to the series "A Life Upside Down" kicked off by "A Spy's Daughter".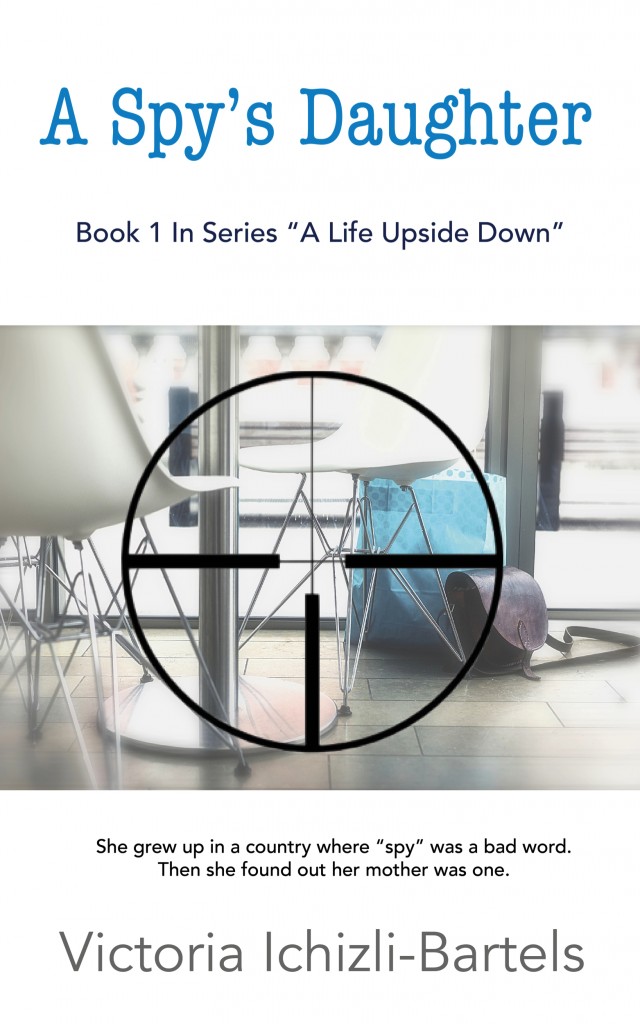 A Spy's Daughter: A Novella
(Book 1 in series "A Life Upside Down")
Description:
Hannah doesn't have a husband or a boyfriend. She doesn't have a mother either. Her mother died long ago. But Hannah still thinks of herself as a happy person. Mostly due to her family — her father, sister and her two uncles — who love and support her. And because she has an exciting job, with great colleagues. Which is not that common in the post-Soviet Moldova. Soon their lab will have a state-of-the-art high-resolution microscope to take their research to a new level.
And she, Hannah (who thinks her name is Victoria) must go to collect this microscope from Germany. All she needs is a visa. Which could be a challenge. But she has prepared all the necessary documents to convince the authorities to issue one to her.
The day before her appointment at the German embassy, she finds out that she won't have any issues with a travel visa, because she doesn't need one. To her utter surprise, Hannah learns from her father that she has dual citizenship, Moldovan and American. And more surprising still is one tiny additional detail he now reveals about her mother.
That she had been an American spy.
Available at:
Amazon.co.uk

, and
other Amazon sites,
as well as at CreateSpace.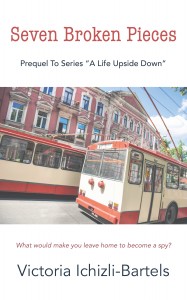 Seven Broken Pieces: A Short Story
(Prequel to series "A Life Upside Down")
Description:
Young and resolute, still suffering from her sister's death in Vietnam, Sasha Leroy Palmer decided in the 1960's to fight the enemy on the other side of the Iron Curtain from within. Even if this meant becoming a spy.
She convinced herself that her sister's death was the only reason she came here. To help her home country, the one that was truly free, to fight one that wasn't (even if it proclaimed otherwise). It was the duty of every true American citizen to resist Soviet propaganda and help weaken the force of evil. Especially since the Cuban Missile Crisis.
So why then did every letter from home, secretly passed to her by colleagues in the cause, make her feel that this hadn't been the reason? That there was an even bigger one for her coming here.
Hadn't she made peace and accepted her father's decision? Was she really running away from her responsibilities, as her parents insisted? And if she was, what could make her stop running?
Surely not the man who caught her as she stumbled on a shaky trolley-bus in the capital of Soviet Moldova. Or could he?
Available at:
Amazon.co.uk

, and
other Amazon sites,
as well as at

CreateSpace

.