"Free writing is a prewriting technique in which a person writes continuously for a set period of time without regard to spelling, grammar, or topic. It produces raw, often unusable material, but helps writers overcome blocks of apathy and self-criticism. It is used mainly by prose writers and writing teachers." https://en.wikipedia.org/wiki/Free_writing
First of all, I would like to argue with the above definition about the material produced during free writing being unusable. If you prompt the free writing exercise with a topic of interest, I bet at least a part of it will be usable. Very much usable. But more to this a bit later.
At this point, I would like to shout out to any teacher, not only to business coaches and professors, but to them in particular: Before you teach your students any rules or constructs composing their texts, first teach them to free write. Teach and motivate them to create without any amendments and editing beforehand.
What is interesting, most of us, when we learn a language at school, we first learn grammar, pronunciation, phrases, but we rarely learn just to let our thoughts flow on paper or on computer screen. Especially, when it comes to composing a business document or an e-mail we first learn the structure: set-up the goals, make your point clear and conclude.
On my opinion, this approach is like putting handcuffs on a painter and say, "Now let your creativity flow". You can't do that, if you expect something great and unexpected to come out of this exercise.
And this pre-planned approach is neither the way we learn our very first language. With our very first language, we are encouraged to say whatever comes out of our mouths and only after that we learn what is appropriate and what is not, how we should say something, and how not.
I am writer now and writing daily is one of my basic needs. But curiously enough, I was afraid to write and used to think that I hated it. Well, I followed the widely-spread cliché, "Writing for school or work can't be fun!"
But something happened when I actually was in the process of writing. The thoughts were flowing and I often ended up with much more information than was intended or asked. Recently a mail recipient answered to one of my long e-mails to her, "One can see you are a writer."
But what if we are all writers and can accelerate our productivity by letting our thoughts flow? Lately, I get many compliments of being prolific and creating a lot of useful material. This feedback comes in each of the three areas, I am active in: creative writing, business writing, and S1000D® (a deeply technical topic).
The need to teach free writing became evident to me, when I was deep into a S1000D project I have started here on my site, where I develop the S1000D business rules step-by-step guide. In the Business Rules Working Group of S1000D community, we've tried (also during my 10-years-chairmanship of the group) to come up with something like this for quite some time. We talked about the structures, we struggled with various opinions and contexts, we started and abandoned mind-maps outlining such a resource, and finally we came up with a minimum we could extract from already available information in the standard by presenting it in a tabular way. We did get a lot of credit for that, but there was still a lot missing and I was still getting the questions, "When will you write 'S1000D for Dummies'?"
Let's fast forward several years into my writing career. Becoming both an author and an independent consultant allowed me to re-discover an old creative writers' wisdom, "You can't edit an empty page." This wisdom allowed me to take action. So I started filling in the pages with ideas, and a with currently growing interest and feedback this resource has a potential to save projects implementing S1000D a lot of headache, a lot of time and a lot of money.
But editing an empty page was exactly what we did in many discussions about Business Rules and Implementation Guide for S1000D. The eruptions of creativity happened when we let or tasked a member of our group simply to create a document and then we edited and shaped it.
I realized over the years that brainstorming and pre-planning often don't work, especially in case of elaborating a certain topic.
I am glad to experience now often the magic of free writing in my writing, whether it is a commercial proposal, a job application, an e-mail or a chapter of my current work-in-progress.
And recently I have witnessed its magic on my students.
One of my students has writing blog posts as a part of her job. And she thought she didn't like it. This sounds familiar, right? Writing for business is dull, many think. But is it really?
This student also claimed that she couldn't write academic texts. So, at our first session I suggested to free write on a topic we spontaneously chose together. We wrote for 5 minutes. And the results were amazing. Her piece was thoughtful and utterly academic. She liked this exercise so much that she asked to do this 5 min-free-writing-exercise at each of our language learning sessions together.
Later at a creative writing workshop on fiction, which I taught to a group of about twenty-five people, we free wrote for 5 minutes taking a sentence from one of the known novels. Then each of us read his or her piece out loud. The results were again astonishing and extremely unique for each person. None of the pieces was bad and many were simply brilliant, causing all of us chuckle and smile with pleasure. Some of the students even used their piece to develop it further in the creative writing camp, of which the workshop I mentioned was a part.
You might argue, "It's all good and well, but you are still talking about writing fiction. You can't do it with business writing!"
But let me argue back. You can do this with business writing and your should. Each piece, each document, each e-mail you have to write will profit immensely if you free write it first.
I will go further by claiming that a thorough pre-planning is a waste of time, because when you actually write the text, it becomes considerably different from what you planned in your head before writing. And it is often much better than what you rehearsed.
And you know why it is much better than those day-dreamed texts? Because the written piece is real and existing. All the other, planned and brainstormed, but never recorded clouds, do not exist. They evaporated right after you thought them.
Another analogy: Consider going to your boss (or anyone for that matter) to talk about a certain topic. If you rehearse the conversation beforehand, you will be 100% disappointed in the end, because it will simply not go as you expected. The conversations, which do go to our satisfaction and bring pleasant surprises go usually according to the following scenario. We think of a topic and go to our boss's office, knock, push our head through the opened door and when allowed we say, "Listen, this is what I wanted to talk to you about." And then we improvise and adjust our message as the feedback and questions come from the manager. Then we leave his or her office satisfied with a productive conversation.
So, before you teach your students the structures and rules, first let them express themselves freely on a particular topic and then see what they can shape out of it. Let them create before carving out a sculpture. Let them do this before admonishing them, "This is the way you have to do it." As I read recently somewhere, you need first to have a rock or a mass of another material before you make a sculpture. Let your students, your co-workers you give a task to write a document, first create that rock, that mass freely, before you tell them to revise and edit it.
This applies to any kind of writing and business writing in particular. I bet, by teaching free writing and practicing it yourself, you will discover the raise in work efficiency, increase of motivation at work, and completely new ideas, which you or your students would not have been able to generate by simply teaching or learning the rules.
Picture: Recently, I started collecting my free-written pieces. Not necessarily to use them, but simply to remind myself of the power of free writing and its ability to make my creativity and productivity visible and tangible.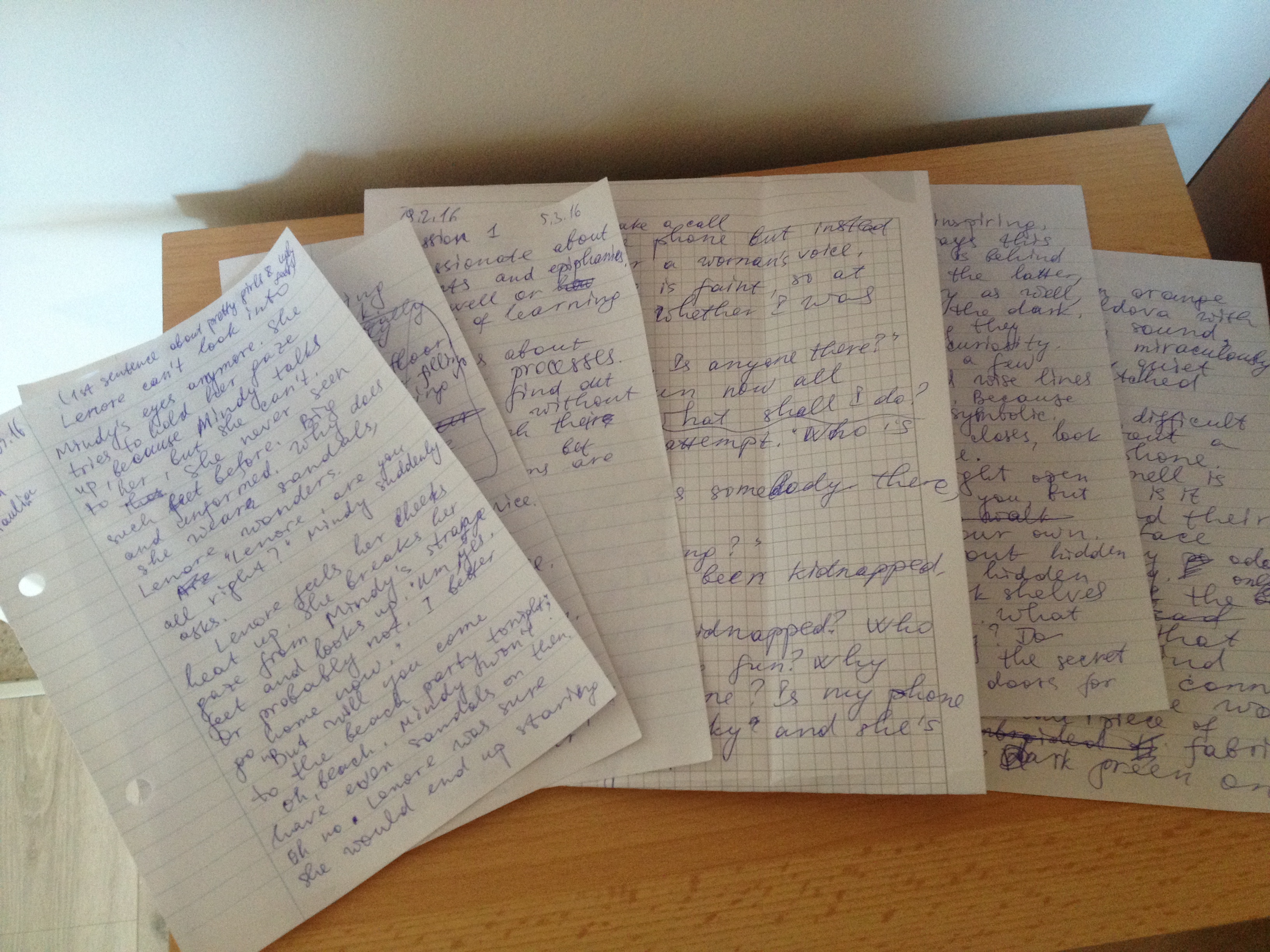 © 2016 by Victoria Ichizli-Bartels