On December 1st, 2015, I started an online resource on this site to find out what could be the most appropriate sequence of steps when implementing S1000D (and Issue 4.1 in particular). In other words I tried to arrange Business Rules Decision Points (BRDP) defined in S1000D Issue 4.1 into a sequential order of taking those decisions.
While doing so, I have not only set the order but also filled in the gaps where I thought that decision points were missing.
Those who followed this work and commented on it will know that I was going to compile the finalized resource into a book and publish it.
I published the first edition of this book three days ago, on July 12, 2016.
As with any other work, this one took shape during the process of its creation. At first I called it a S1000D Business Rules Step-by-Step Guide. Then I called it a BRDP Chain, which it still is. At least in the book it is referred to as such.
However, while working with S1000D Business Rules Decision Points with all their parameters, I realized that when gathered into topics they are the most efficient pointers to various concepts and constructs offered by the Specification.
Thus the title of the book and the book itself had gotten finally a much broader sense and purpose than I initially had envisioned. The book is not only about Business Rules anymore. The book is about understanding S1000D better — that is, in a very structured and targeted way — and by that facilitating and accelerating its implementation process.
Today the title of this resource is:
"S1000D Issue 4.1 Untangled:
552+ Business Rules Decision Points Arranged into a Linear Topic Map to Facilitate Learning, Understanding and Implementation of S1000D".
But not only the title and the scope of this resource had changed, also the content was affected. Especially, the order of the BRDPs has changed considerably as well. Therefore in order to avoid confusions and spreading the outdated information, I decided to delete the initial resource. The update of the online resource was not feasible anymore because the BRDP sequence and content around it had changed so much. I apologize if the deletion of this online resource causes any inconveniences to you!
If you would like to find out more about the book, you can do it here or click on the cover image below.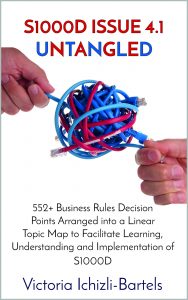 What do you think about the change in the scope of this resource? Do you agree that Business Rules Decision Points (grouped around certain S1000D topics) identify the necessary context for certain steps in S1000D implementation?