Elizabeth wiped her tears and looked at the bright spot on the wall in front of her and Claire. She moved her hand to delete the last sentence. I don't remember…you. But then she stopped. It was too late. Claire must have seen it. She stole a gaze at her mother, who looked ahead in her frozen state of paralysis. How could she live like that? Elizabeth cursed silently at herself. How could she be so mean to her mother?! She took a deep breath, noticing that chocolate aroma followed her all the way from the kitchen to the Claire's room. She typed. "I am so sorry. I didn't mean…"
Only then she noticed that Claire has typed already a whole paragraph above Elizabeth's apology. It said, "I had a stroke when you were two years old. Unfortunately I noticed that something was wrong with me only when I was at the top of the stairs and as I tried to support myself on my right arm. But it didn't function anymore, so I fell down the stairs. I remember the world whirling around and then everything stopped. When I woke up at the hospital I couldn't move, but you, your father and Patrick were at my bedside, which made immensely happy. You were safe! You were alone with me at home when this happened. I was so terrified when I was falling down the stairs. I was terrified that something might happen to you."
Elizabeth shivered as she read her mother's words, who seemed now oblivious to Elizabeth's apology from above.
Claire kept typing. She seemed eager to let out all those words of explanation she must have gathered inside her for so many years.
Elizabeth sighed with relief. She was still loved. She gazed a few more seconds at Claire oblivious to her daughter's staring. Typing away.
"Then the next shock followed. First the doctors said I should not talk for a while. And when I tried we discovered that I couldn't say anything at all. My vocal chords were paralyzed as the rest of my body. I still could swallow. And blink. But nothing else was possible." Claire paused breathing heavily.
Elizabeth used the break in Claire's frantic typing. "Shall we make a break? I can come later…if you need to rest."
"No, no. Let me tell you everything now." Claire placed one hand over another on her keyboard, then separated them and continued typing. "You were the one to discover that my hands and forearms were still functioning. Or rather Patrick noticed as you played with my fingers and they returned your movements. Shortly after that the therapy began and goes on until today."
There was another break in the typing stream and Elizabeth decided to wait. She could not imagine herself in her mother's situation. She would definitely go insane. She stole another gaze at Claire. What inner strength was necessary to keep herself so awake, so present and alive?
Elizabeth noticed Claire pressing two keys simultaneously for a few seconds. As she turned to the wall she saw, ":-))))))))))))))))))))" Then typing recommenced. "My doctors keep saying until today that it is amazing my forearms and hands are still functioning while everything else is paralyzed. Only Joe, my current physical therapist says, 'If you believe in miracles, then no surprise there.' 🙂 He keeps on massaging every muscle when he comes here every afternoon. He says, he's not keeping me alive, he is just searching for another miracle in my asleep body. Which I doubt he will find. But he said, as long as he is responsible for me, he'll keep going. He's a good sport at his fifty-five."
Elizabeth smiled. She started to guess why her mother was able to survive. There were people around her supporting and loving her. She imagined this house, its whole idea of sheltering people fighting with their illnesses for their lives and health, which she now suspected was Claire's, kept her alive. In the next moment Elizabeth frowned. But why…? She shivered again. She knew that she would flip the conversation to unspeakable sadness, but she had to know. "Why…how…why did Papa and I end up in Germany and not stayed with you and Patrick here."
A stream of air came pressed out of Claire's nostrils filling the silence. "Kirill was the most to suffer. Medical bills took much of his salary. And then you and Patrick needed so much attention. He did all he could, but it was very hard. And when you fell off the roof—"
Elizabeth stopped reading. So what Patrick said is true? Forgetting to read her mother's words further she typed. "Did Patrick pushed me off the roof?"
"What? No! Why would he? Who told you that????"
"Patrick." Elizabeth avoided looking at her mother now. She felt that she was inducing a pain into this already suffering woman.
"Why would he do this? No, no, he didn't. It was…I am the only one to blame for this. You fell because of me. That is why your father took you away from here, before worse things would happen."
Elizabeth felt that the last five words were not her mother's. They were her father's. And she sensed that she heard them before.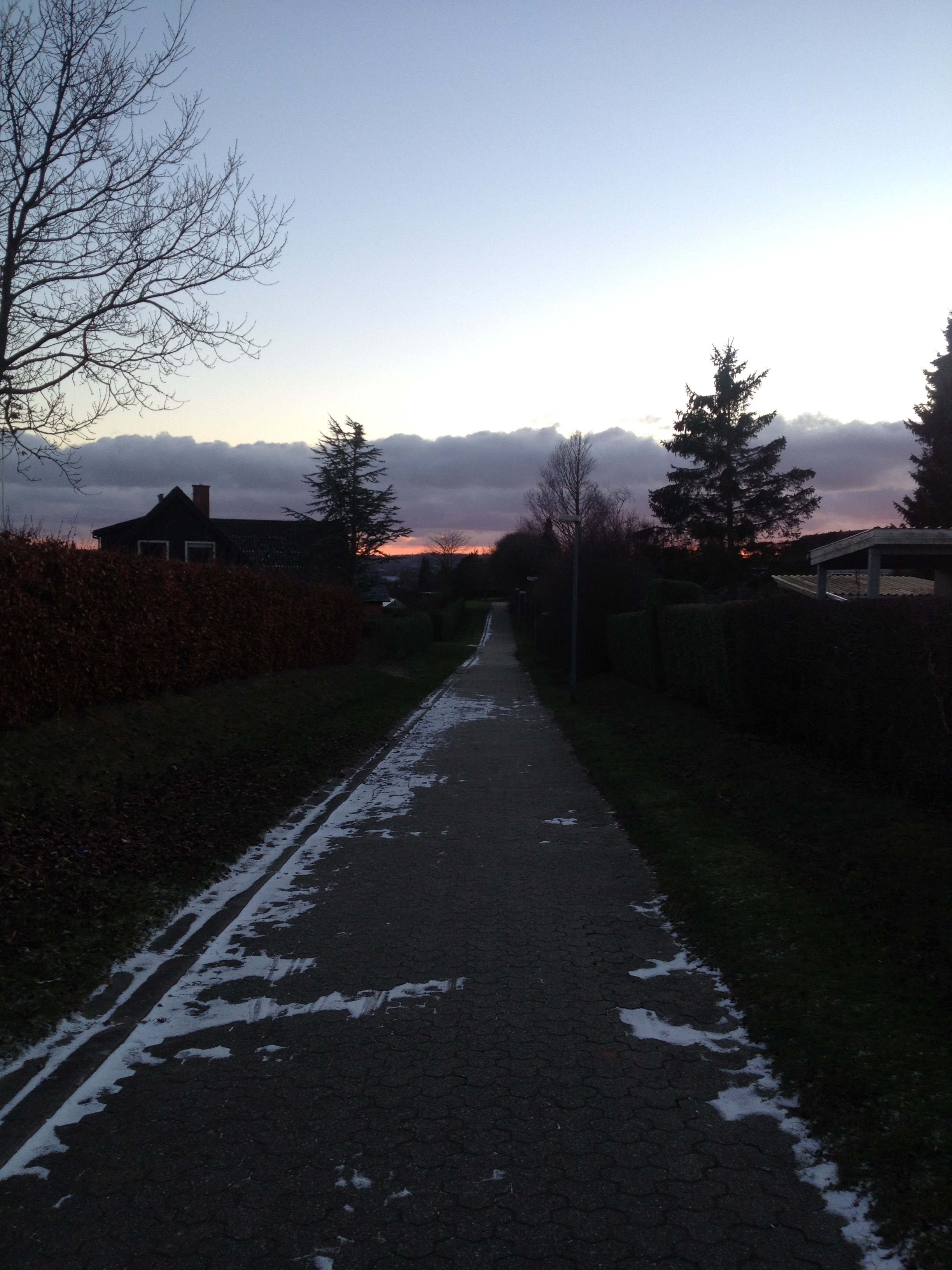 Picture: The winter is returning to Aalborg.
P.S. Chapter 13 will be written and posted latest in two weeks time.
P.P.S. You can find the complete story written so far at "Free Online Books".
P.P.P.S. If you think your friends might enjoy this story, then let them know about it and forward it to them.
Everything except one paragraph (1st paragraph in Chapter 1) of "Nothing is As it Seems" is under copyright © 2016 by Victoria Ichizli-Bartels