The paperback of "A Spy's Daughter" is now available too! You can buy it among other here.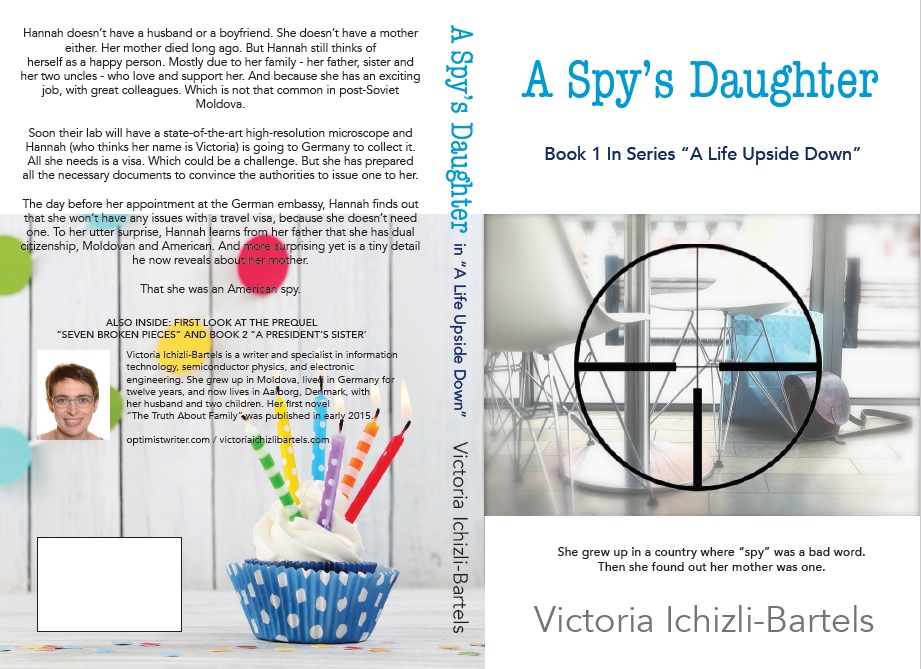 I am very excited about it and wish all the readers very much fun reading it!
I was thrilled to have got a reader's feedback on the book already two days after publishing it! And they loved it!
In the meantime and on this wonderful wave of motivation, I am working on my further writing projects.
They include an inspirational and motivational book for writers "Cheerleading for writers" the chapters of which will be post one by one in this blog and summarized here.
Then I will finalize the story I publish on bi-weekly basis here on my page. This story is called "Nothing is Like it Seems". After finishing it, I will have it edited and will publish it as a permanently free book.
The prequel to the series, which "A Spy's Daughter" started, will be published in the beginning of the next year. I am self-editing it right now and am going to send it to my editor in January.
And I started plotting the sequel to "A Spy's Daughter", "A President's Sister". Most in my mind but the story is deepening. This book will require some research in the part, of which I used to think was not interesting for me. Politics and how it is made. Now, I am basing a book on this! Because apparently, it is quite interesting for me, especially of how it is made and the dynamics between people when they do politics. I am quite curious of this new adventure for me.
There are also more ideas and projects looming and waiting for me to bring them further, including two fiction books and one an essay collection "Everywhere at Home", I mentioned in the newsletter from November.
I am very excited about all this, and I will let you know how these projects progress.
In the meanwhile, this blog will have a Christmas break and will recommence after the New Year's holidays.
Here I would like to thank all my readers and friends for your support and cheering in the past year and wish you all, and your families and friends, wonderful holidays, much happiness and many exciting moments in the coming year!