Successful leadership embraces management skills. But any successful manager is a successful self-manager.
And these successful managers and self-managers know that the best leadership and management is not about control and never about manipulation. It is focused on support. This also applies to self-management.
There are many aspects to management both when we manage teams, projects, or ourselves. We can use many different tools and techniques.
But any of those tools or techniques would not bear any fruit if you don't concentrate on support for your team, project, and yourself.
The best way to support anyone— and you will know it from when you supported your children or younger siblings and friends when they were upset or needed to accomplish something and resisted it — is to turn the activity at hand into a fun game or play.
That includes management of any kind.
Here is an utterly simple tool to ignite the "idea-generating machine" in your head to approach management tasks — be it for the team, project, the whole company, or yourself — gamefully. Ask yourself the following question:
"If this [challenge, project, task, activity, chore] was a game, how would I approach it as its designer or player?"
Awareness and permitting yourself to be gameful and playful is all it takes to shift your focus from stressed and overwhelmed to supportive and creative.
I wish you joy with it!
If you want to level up in turning your management skills to gameful and playful, and with that save your company, team, project, family, and yourself the costs of seriousness and drama, then read my book Gameful Project Management: Self-Gamification Based Awareness Booster for Your Project Management Success (from "Gameful Life" series)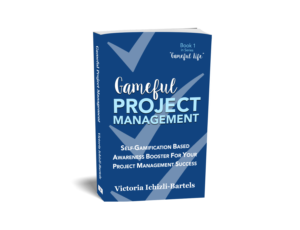 To discuss the possibility of one to one or small team coaching, contact me here: