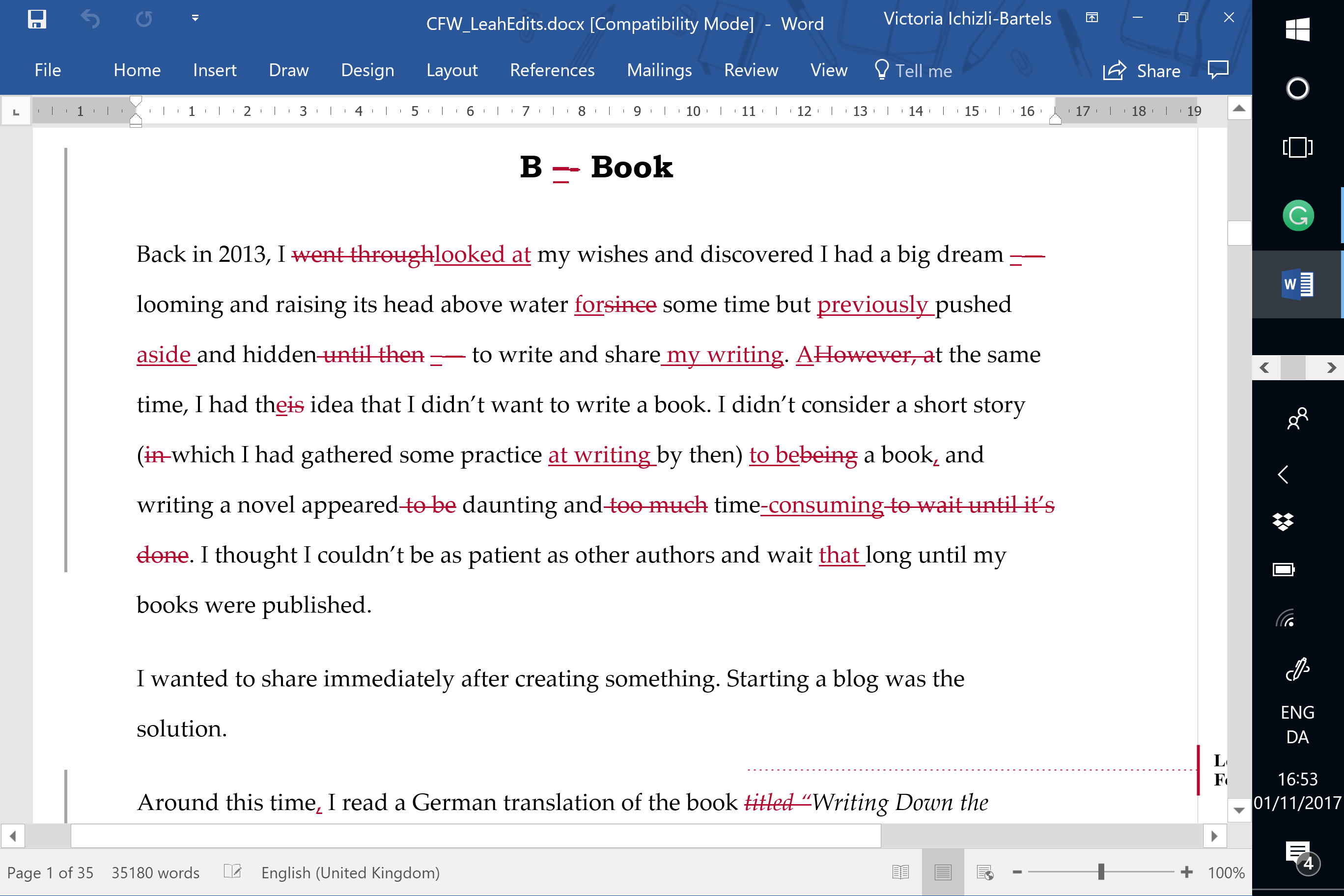 The topic of this article has a direct connection to what I did during the October round of the 5 Minute Perseverance Game or, in other words, or the October round of my gamified life.
In the mid of September, I have received the edited manuscript of my last of the three books I published this year, "Cheerleading for Writers."
The automatic worry generation upon receiving the mail with the edited manuscript functioned faultlessly.
Worries of how many unresolved topics there might be. Concerns whether there would be too much work going through the edits and reading and re-reading my book. Whether there would be still open issues after that, and whether that would drag the publishing process for too much longer. Whether I would be able to publish the book in October as I hoped, whether people would like its cover and description, whether they would buy it, whether they would love what they would be reading. Etc. Etc.
These worries consumed some of the time. But luckily not all of the time I reserved for this work. I did manage to publish the book in October after reading and polishing the book two more times after I got the revised manuscript from my editor. This process included an exchange of more material with the editor that was edited by her and later Incorporated into the book.
The solution to my worrying dilemma was a mixture of three approaches:
Instantaneous transformation embracing awareness and being in the current moment of my life,
Gamification that is bringing games and playful method to all the tasks I had to address,
Kaizen that is taking it all step-by-small-step.
Awareness helped me relax and concentrate on one thing at a time, gamification brought back the fun and breaking the task into small steps helped to make the project doable.
First I started giving myself points for resolving each issue, on which my editor commented explicitly. Then after these were done, I have printed the manuscript with changes accepted. After reading and making notes on each chapter I gave myself another point and recorded it. Then incorporation of changes into the text. Again a score for each chapter. Then the repetition of the process, except the reading was now on my Kindle.
I sometimes forgot to record the points, and I don't have the total score for editing the "Cheerleading for Writers." And this was not the point. The point was regaining the fun with the work at hand and with that making progress.
One of the most important tools during this and other rounds of the game were observing myself and my circumstances in any moment non-judgmentally while monitoring the fun factor. If I noticed that the given activity started to become stressful, I slowed down and looked why it was so.
Often the solution was to make a little break and do something else. Sometimes the promise of such a break was already helpful, and I could finish editing or revise the chapter at hand before taking a break.
Awareness includes being kind to oneself.
Award-winning writers and creators of the approach called Instantaneous Transformation, Ariel and Shya Kane define awareness as follows:
"A nonjudgmental, non-preferential seeing. It's an objective, noncritical witnessing of the nature or what we call the 'isness' of any particular circumstance or situation. It can be described as an ongoing process in which you are bringing yourself back to the moment, rather than complaining silently about how you would prefer this moment to be."
(Ariel and Shya Kane, "Practical Enlightenment," 2015)
In addition to the lessons learned in respect to dealing with feedback from my editors, I have learned and re-learned (= experienced again) some more general and also specific lessons this past October round of the 5 Minute Perseverance Game.
Here are the general lessons learned:
Be willing to play. Thatis one of the primary conditions for a game to take place. (See also the post "Testing the 5 Minute Perseverance Game for the Four Main Components of a Game", especially the section "Voluntary participation"). Otherwise, this won't be fun and no game either.
Take responsibility, be honest to myself, don't judge, don't blame, neither myself, nor others, nor any circumstances. Otherwise no fun, no game.
Be kind to myself and others. Otherwise no fun, no game.
Stick to the chosen design for some time (in my case one month). Don't moan, don't judge (see Lesson 2 above). Otherwise no fun, no game.
The more specific lessons come from planning the next (November) round.
Before I report on that, here are my results for the October round of the 5 Minute Perseverance Game:
I scored in total 765 points in October. That made 62 points more than in September. Out of these, 260 were the bonus points, which correspond to 52 concrete deliveries, postings, etc. These correspond to six more than in September.
The results show that I made progress and did better than in September. But my brain still complained.
And here we come to what I realized as I planned the November round of the 5 Minute Perseverance Game.
I still like the design I applied in September and October with the eight areas of my daily activities, including my work and personal life. But my brain started to complain about the fact that in October there wasn't a single day when I managed to attend to at least one project in each of the eight areas of activities. So in none of the days in October, I managed to earn the ten bonus points I promised myself for that. Although I have scored many five-point bonuses, for making a delivery on something, whether publishing a book, a blog post, preparing an ad and posting it, writing a proposal and sending it out.
So, to soothe my complaining brain, I started jotting down a new list of projects for November. After playing with the entries in the list and regrouping I came up with the precisely same list but in a different order. "Book marketing" became now bullet 1 (and before it was in the 5th position) and "Free time, fun and health" moved from position 8 to 6. Plus, I made Non-fiction and fiction writing entries more explicit by putting the titles of my future books separated by commas in the bullet titles.
As I looked at the result, I had to smile. This is nothing else then shuffling the cards of a beloved game anew. I want to play this game, and I love it, I also enjoy the current design of it, but playing the same hand for three months in a row would be just dull. So unbeknownst to me, I shuffled the cards and started to play again. I had fun today searching in the list where to put the point for one or another activity. And as soon as I finish and post this blog post I will gain five more bonus points.
Now, that is motivating!
You might smile at this and think that I fool myself by rewarding myself by jotting points for what I do. But how is it different from getting points in the Candy Crush Saga® game? The requests I get from friends on Facebook to play that game inspired me to view my perseverance game as something similar.
I do nothing else than plan my very personal version of the Project Crush Saga game. 😀
I'm even contemplating to call my next book on the 5 Minute Perseverance Game as "Project Crush Saga." Of course, at some point, I will double-check with the trademark holders at King whether they are OK with me doing so.
But for the time being this is the best way I can explain to you, why I have so much fun gathering points.
Actually, there is even more to it.
While I gather points and marvel as I see more and more of them in my notebook, I also make progress in real projects, both work and personal.
So I am not trying to play a game to escape my life for a bit. Instead, I make my life a fun game.
And I must tell you, this game is gratifyingly addictive. 🙂
On the picture above: A screenshot of one of the chapters from "Cheerleading for Writers." And here is how the book looks now: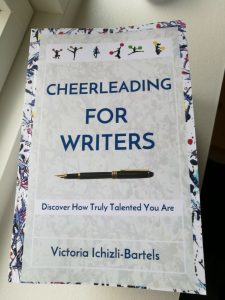 What is this blog series about? You can find this out in its first blog post called "5 Minute Perseverance Game – Moving my Favorite Game to my Writing Blog."
Copyright © 2017 by Victoria Ichizli-Bartels