***
Here is the first blog post in a new series featuring videos on YouTube, where I read a short paragraph from one of my motivational books and use it as a prompt to speak freely. This idea was inspired by the free-writing exercise well-known among writers.  I used dice and timer to turn this free-speaking exercise into fun games. I hope you enjoy watching them and maybe trying out this gameful approach for yourself and tasks you want or need to tackle today.
In this video, I read from my book, 5 Minute Perseverance Game: Play Daily for a Month and Become the Ultimate Procrastination Breaker.
I am reading a paragraph from the chapter "Duration of the Game."
Here it is if you want to read along, prior, or afterward.
***
You might have guessed — from many hints above — that according to the design of the 5 Minute Perseverance Game, each round takes one month. When you join in the game, you play every day of the month, including the weekends and holidays. But it is a game, and having FUN is one of the main goals here. So, what better way to spend 5 minutes on a weekend-day than having fun playing the 5 Minute Perseverance Game!?
***
Special news
I hope you enjoyed watching me play this little spontaneous creativity game.
Before I finish this post, here is a reminder of the special piece of information I announced in the post "How to Persevere With Joy Instead of Effort."
I am about to publish the 2nd (5-Year) edition of the 5 Minute Perseverance Game this year. I have to read it one more time, and then it will be good to go. So, I expect it to hit the online bookshelves this or latest next week. The new book will have fifty percent more content, updates, a template for a scoresheet, and links to multiple articles on turning life into games I published on Medium.
Here is its description revealed for the first time:
***
Premier of the description for the new edition of the
5 Minute Perseverance Game
5 Minute Perseverance Game
A Self-Motivational Game to Help You Melt Your Procrastination
2nd Edition
Is there something you would like to do but feel you don't have enough time or strength of will to achieve?
Is there a book you want to write, an instrument you want to play, a language you want to learn, or something completely different that you've wanted to accomplish for as long as you can remember?
If you really and seriously want to succeed in this dream project of yours, then play a game. Not a serious game. But a fun 5 Minute Perseverance Game. This short, personal and humorous game will help you melt your procrastination and win any challenge you face.
So, don't wait any longer. Read this book and invite your procrastination to a round of the 5 Minute Perseverance Game. This little book has helped many turn a procrastinated project into a fun and engaging game.
This 5-year Edition offers even more. The text has been edited and enriched, several tactical variants added, and you will find a scoring sheet for the game you play with your procrastinating self.
In addition, most numbered chapters and sections offer links and short introductions to articles on the art of turning life into fun games. Together these articles have become the 5 Minute Perseverance Game "Wiki." With this additional knowledge, you can transform this little game into a series of fun self-motivational games you can play and develop further every day.
***
A special offer
So, here is my offer to you.
If you buy the first edition of the 5 Minute Perseverance Game before the second is published and send me a copy of your receipt, then within the week of the second edition's launch, I will send you a link where you will be able to download the second edition of the book as an e-book in a format of your choice. The new book will be more expensive than its first edition through the considerably larger amount of content. So, I highly recommend that you use this offer if you would like to learn more about the 5 Minute Perseverance Game and other possibilities of turning your life into fun games.
Please send me your receipt to vib@optimistwriter.com or in a personal message through one of the channels listed on my contact page.
***
Where to buy the book
To take a look at the 5 Minute Perseverance Game and buy it on Amazon, click on its title or this image: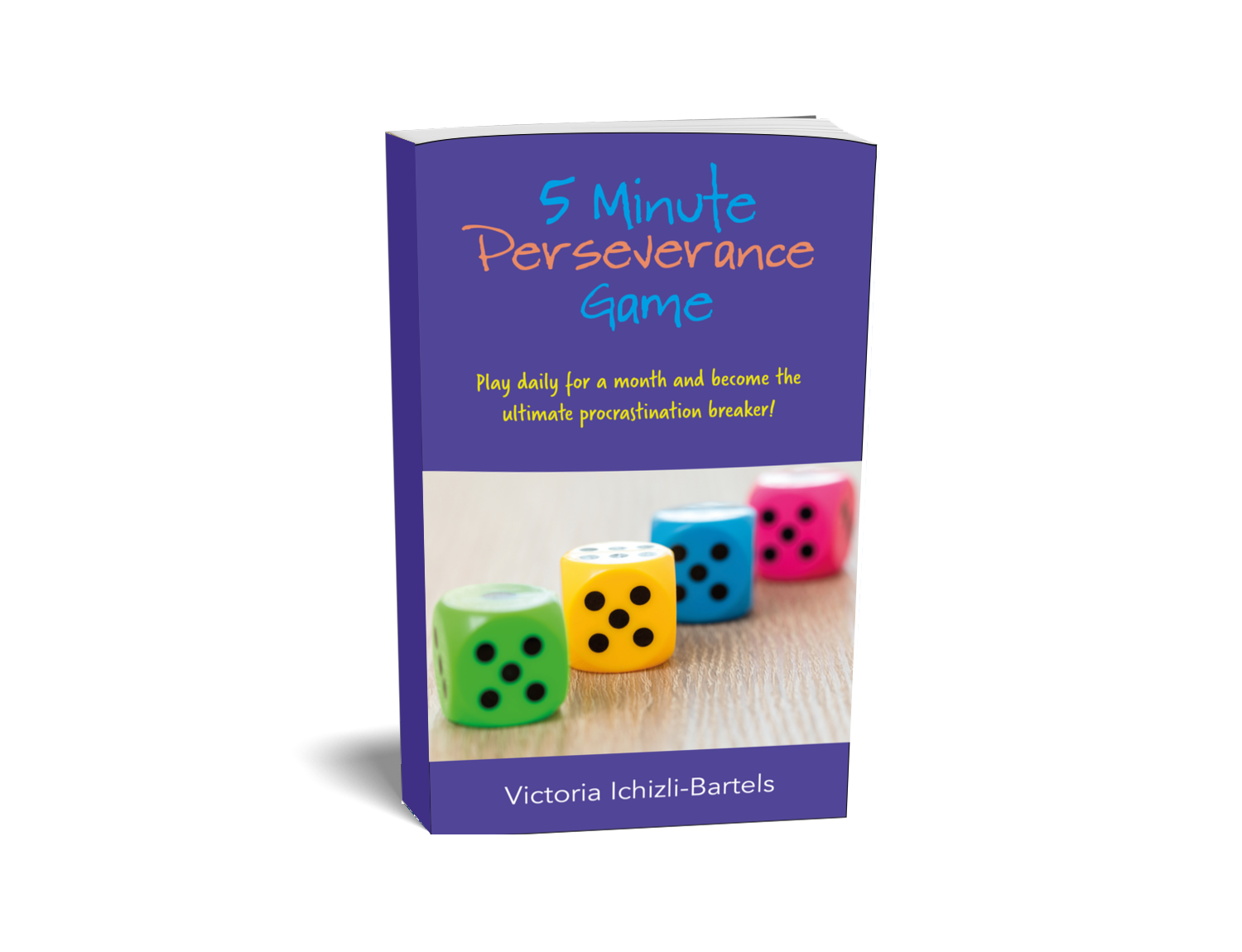 If you want to see where else you can buy it, then go to the book's page on this website here.
Alternatively, you can subscribe to my page, Optimist Writer, on ko-fi for $5 a month, and besides supporting what I do, you will also get access to all my motivational books, which I share there once a month or each time a book is out. Right now, you can get access to five of my books there — one upon subscription or one-time support and four in the posts solely for subscribers. The first edition of the 5 Minute Perseverance Game is already available, and the new one will appear shortly after its publication.
***
Have a beautiful and gameful day!